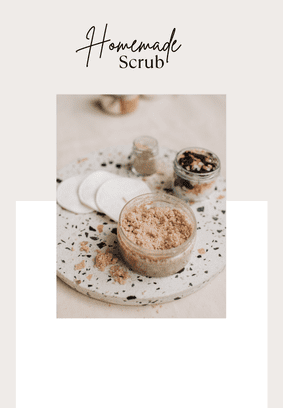 Home made scrub I DIY by Dermatologist
Scrubs remove dead skin cells through gentle physical exfoliation of dead skin cells. However, harsh scrubbing agents can destroy the skin barrier and make it sensitive. Therefore, we use brown sugar as a scrubbing agent. The base of the scrub will depend on your skin type. Oils can be used for dry skin, while aloe vera is best for oily skin.
What is it? Homemade scrub
Skin type: All skin types not having acne, rash or breakouts
Sensitive skin: Yes, you can if your skin is calm
Description
How to make homemade scrub?
It is super easy to make a homemade facial scrub. All you need to do is pour some brown sugar into your palm. Pour a small amount of oil (for dry skin) or aloe vera (for oily skin) until the brown sugar gets slightly wet.
Mix the two with the index finger of another hand. Massage this scrub on your face for a minute or two. Rinse off and pat dry. You can use this scrub twice a week.
Watch the video given below to know more:
What do you need?
Scrubbing agents: Brown sugar is ideal because it acts as a physical and chemical exfoliator. For best results, use organic and unrefined cane sugar. Brown sugar is easily available at the grocery store.
Base: The choice base varies with skin type as listed below:
Aloe vera is recommended for oily skin or if you have black/whiteheads or pimples. We recommend the following 3 organic and pure aloe vera brands available in India and the United States.
Argan oil is a good choice for normal to dry skin types. It is rich in antioxidants and has soothing and anti-aging benefits.

 

Moroccan Argan Oil is 

available online in India and the United States. 
Many recipes mention the use of lemon juice and brown sugar. It might not be a good idea because the glycolic acid in brown sugar already has acidic pH. Similarly, honey is too sticky to let the scrubbing agent glide through freely on your skin.
What are the side effects?
Any kind of scrub should be avoided in inflamed, red, or irritated skin. A patch test is recommended before first use in sensitive skin types.
Additional information
| | |
| --- | --- |
| Skin Type | Dry, Normal/Combination, Oily |
| Skin concern | Acne & Blemishes, Ageing/Wrinkles, Dark circles, Pigmentation & Dark Spots, Pores/Blackheads/Whiteheads |
| Senstive skin | Mildly Sensitive, Not Sensitive |
| Gender | Female, Male |