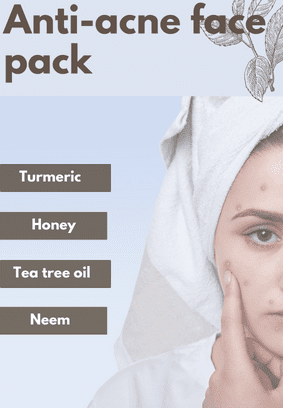 Homemade anti-acne face pack
Are you ready to give natural treatment to your pimples? This homemade anti-acne face pack is the right choice. It has scientifically proven anti-acne ingredients like tea tree oil, turmeric, neem, licorice, honey, cinnamon, and rose water.
What is it? Home-made anti-acne face pack
Who can use it? All skin types for reducing acne. We have modified the base ingredients for each skin type.
Sensitive skin: Can try if the skin is calm.
Description
How to make acne face pack?
Mix the following ingredients in a dry, air-tight container
Step 1: Put base ingredients
Every skin has a unique requirement to balance the oil secretion. Therefore, we will use different base ingredients for each skin type, as discussed below:
For oily skin: Put 5 spoons each of Multanin mitti (or fuller's earth)  and  besan (or chickpea flour)
For combination skin: Put 5 spoons each of besan (or chickpea flour) and grounded oats
For dry skin: Put 5 spoons each of milk and grounded oats
Step 2: Put active ingredients 
While base ingredients differ, following active ingredients are used for every skin type:
half a spoon of turmeric powder
quarter spoon of cinnamon powder
half spoon Licorice
half a spoon of neem powder
You can store the above mixture in an airtight container for 1-3 months. The only precaution is that water should not get inside it.
Step 3: Add liquid ingredients 
When you wish to apply this face pack, all you need to do is take two tablespoons of the above mixture and add the following liquid ingredients:
1/4 spoon of raw honey
5 drops of tea- tree oil
Rose water to make a thick paste
Watch this video to learn the procedure (there is a slight variation in the recipe):
How to use it?
Scrub your skin with this brown sugar scrub
Pat dry with a clean, soft cloth.
Apply the face pack in an upward direction.
Let it dry. Leave it untouched for 15 minutes or so.
Once it is dry, splash a generous amount of water on your face to make the mask soft.
Gently scrub your face by removing the face pack in circular, outward motions to aid the removal of dead skin cells.
Rinse off the leftover face pack and pat dry.
You can use this face mask once or twice a week.
What are the side effects?
This anti-acne face pack has many potent ingredients which could irritate, as is common for sensitive skin. Thus, always perform the patch test before the first use.
How to store?
You can store the dry ingredients for 1-3 months.
Why these ingredients?
We have used the following ingredients that have studies to show some anti-acne action:
Clay or fuller earth or Multani mitti causes a sustained decrease in oil secretion and absorbs sebum from the face when applied for a long time.
Turmeric has anti-oxidant, wound healing, and anti-inflammatory benefits.
Tea tree oil has been shown to inhibit acne in various studies, and it is as effective as benzoyl peroxide in treating acne. It inhibits P. acne without affecting normal skin flora, besides being anti-inflammatory. It can cause redness, dryness, and irritation, especially in sensitive skin. It should not be used in pregnancy and lactation.
Cinnamon, when used in combination with honey, can reduce acne.
Glycyrrhiza glabra, Licorice, or mulethi extracts have antibacterial activity besides skin-lightening effects. Licorice reduces acne due to its anti-inflammatory, antioxidant, and antibacterial properties, besides reducing androgen levels. But should be avoided even in a small amount in patients with hypertension and heart and kidney problems.
Rose water can even help in reducing comedones or black/whiteheads.
Raw honey, when applied directly on red pimples, can help in reduction owing to anti-inflammatory benefits.
Gram flour or besan helps by absorbing extra oils in oily skin types.
The unique thing about this face pack is that we have customized the base ingredients to match your skin type:
Dry skin: Oats and milk are used to nourish and hydrate.
Combination skin: Chickpea flour and oats help in balancing oil secretions.
Oily skin: Multani mitti and besan remove excess oils of greasy skin.
Additional information
| | |
| --- | --- |
| Skin Type | Dry, Normal/Combination, Oily |
| Skin concern | Acne & Blemishes |
| Senstive skin | Mildly Sensitive, Not Sensitive |
| Regime | Weekly |
| Gender | Female, Male |