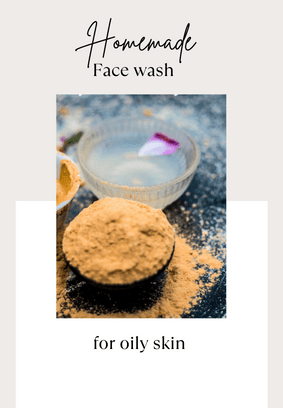 Homemade Face Wash for Oily Skin
Looking for a homemade face wash for oily skin? Try this recipe. You can make it in just 5 minutes and can be stored for 1-3 months without refrigeration. All you need is Fuller's earth or Multani mitti, besan, neem powder, lemon peel powder and tea tree oil.
What is it? Homemade Face Wash for Oily Skin
Who can use it? Oily skin
Sensitive skin: Can use it by omitting lemon peel, neem and tea tree oil
How to make it? Check description box
Where to buy ingredients? Most ingredients are easily available online
Description
Oily skin needs a face wash that can remove excess oils to control acne and open pores. Removal of oils imparts a fresh matt look. This homemade face wash does all of the above. This recipe is for you if you want to go for no-chemicals skincare.
How to make?
Mix and store the following ingredients in a completely dry airtight container:
5 tablespoons of Fuller's earth or Multani mitti: Available at
10 tablespoons of Gram flour or Besan: Available at
1/2 tablespoon of Turmeric powder: available at
1 tablespoon of Neem powder (for acne-prone skin): Available at
5-10 drops to tea tree oil to enhance anti-acne action (optional): Available at
1/2 tablespoon of Lemon peel powder (omit in sensitive skin)
We have shown the steps of making and using this natural face wash for oily skin in the video given below:
How to use?
Wash your face with plain water.
Take a small amount of the above mixture on your palm.
Put some drops of water and make a paste on your palm.
Massage this paste on your face gently in circular motions.
Spend more time on your T-Zone.
If possible, leave it for a minute or two on your face. The good idea is to start your shower by applying this paste and end by rinsing it.
Rinse off with water and pat dry with soft tissue, if you have added turmeric to prevent staining of the towels.
How to store?
The only precaution you need to take is to KEEP THIS FACE WASH DRY.  If water gets into this face wash, bacteria and moulds will grow in it.
Store this homemade face wash for oily skin in an airtight container. Close the lid properly after each use. Put it away from the tap. In the beginning, I also wasted a couple of batches until I got more disciplined on keeping this face wash away from water.
This little effort of making and storing this face wash will pay off in the long run with beautiful skin, without the risk of harming yourself and mother earth.
Why these ingredients?
Multani mitti and chickpea flours absorb extra oils from the greasy skin. They gently exfoliate your skin to remove dead cells and debris to give clean and fresh skin.
Turmeric and lemon peel powder imparts skin-lightening, anti-septic and anti-ageing action to this face pack.
In acne-prone skin, neem and tea tree oil control pimples.
Can this face wash remove make-up?
No, this face wash is not strong enough to remove the make-up. You should remove your makeup with cleansing milk and then wash your face with this homemade face wash.
Additional information
| | |
| --- | --- |
| Gender | Female, Male |
| Skin Type | Oily |
| Skin concern | Acne & Blemishes, Ageing/Wrinkles, Pigmentation & Dark Spots, Pores/Blackheads/Whiteheads |
| Senstive skin | Mildly Sensitive, Not Sensitive |
| Regime | Morning, Night |