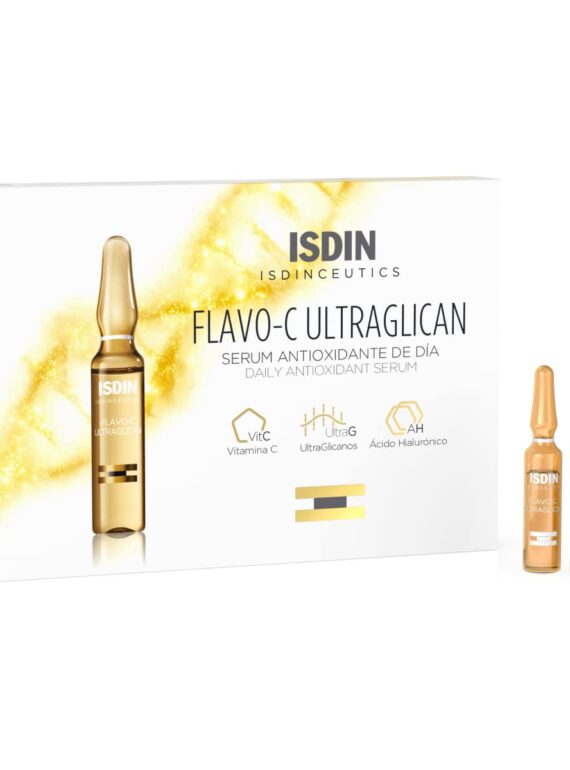 ISDIN Vitamin C Ampoules
If you are looking for a product that helps in skin brightening, tightening and anti-ageing then ISDIN Flavo-C Ultraglican Ampoules is for you. It has Vitamin C, Hyaluronic Acid, and Proteoglycan complex that provides a complete anti-ageing solution. The best part is that your product comes in ampoules that are to be opened before use.
What is it? Vitamin C serum in ampoules
Who can use it? All skin types for anti-ageing
Sensitive skin: Can try once the skin is calm
Description
Pros:
Vitamin C isin  the form L-ascorbic acid
UltraGlycan is a combination of proteoglycans and pre-proteoglycans, which support firmness and elasticity in the skin and provide radiance.
Hyaluronic acid restores the moisturization level of your skin
It is best suited for dry and sagging because it can provide hydration and firmness along with skin repair.
Unlike other products in this category, it is can be tried on sensitive skin.
Comes in an ampoule that ensures the stability of Ascorbic acid.
Trusted brand
Cons:
Percentage of ascorbic acid not mentioned
Ampoule packing is difficult to open, though the product comes with a protective cap to break the ampoule.