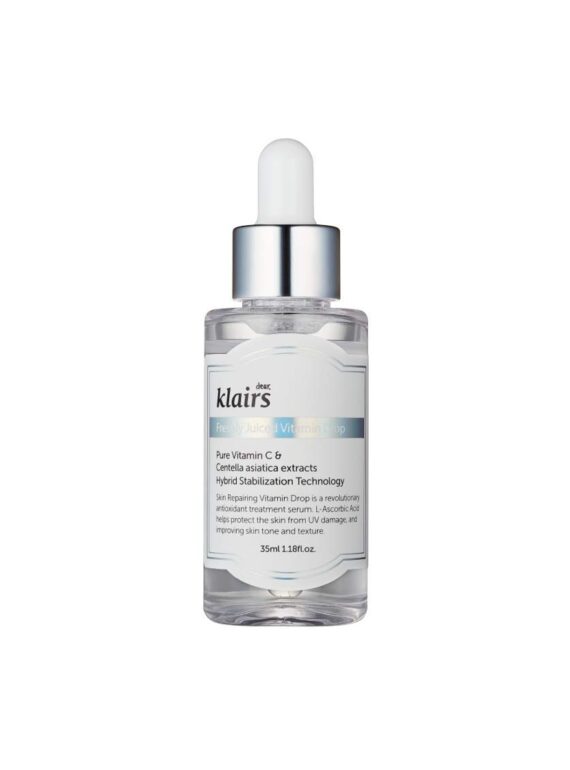 Klair's Vitamin C Serum
Klair's Vitamin C serum is a unique combination of Chinese herbs epidermal growth factors and 5 % vitamin C. It has skin lightening, skin repairing and anti-ageing benefits. Klair's vitamin C serum is a Korean skincare brand. It has a boatload of traditional Chinese herbs. While it comes with advantages, it might cause breakouts in certain people, more so if the skin is sensitive.
Skin type: All (Dry skin type would need an extra layer of moisturiser)
Skin concerns: Ageing skin, Pigmentation, Non-sensitive
Description
What are Klair's Vitamin C Serum benefits?
Anti-ageing: Vitamin C  (in for of L Ascorbic acid and Sodium Ascorbyl Phosphate) along with epidermal growth factors and sodium Hyaluronate boosts up collagen synthesis in the second layer of skin. Klairs Freshly Juiced Vitamin C serum has 5 epidermal growth factors, namely Sh-Oligopeptide-1, Sh-Oligopeptide-2, Sh-Polypeptide-1, Sh-Polypeptide-9, Sh–Polypeptide-11 that help in the synthesis of components if skin matrix. It also has amino acids that further help in improving wrinkles.
Skin brightening: It has Ascorbic acid 5%, Sodium Ascorbyl Phosphate( Vitamin C), and many herbal extracts belonging to the citrus family.  They help in reducing mild tanning and dark spots. However, for stubborn pigmentation, we recommend more potent agents given in this article, Skincare regime for Hyper-pigmentation.
Soothes your skin: Klair's serum has Many herbal extracts like Scutellaria Baicalensis Root Extract, Coptis Chinensis Root Extract (traditional Chinese herbs), Gotu kola etc. They have skin-soothing and skin-repairing action.
What are Klair's Vitamin C Serum side effects?
Klair's Vitamin C serum has many herbal extracts that might cause breakouts in sensitive skin. It also has fragrances. You might have to use this serum with caution if you have fragrance allergies.
Additional information
| | |
| --- | --- |
| Skin Type | Dry, Normal/Combination, Oily |
| Skin concern | Ageing/Wrinkles, Pigmentation & Dark Spots |
| Senstive skin | Mildly Sensitive, Not Sensitive |
| Gender | Female, Male |
| Regime | Morning |