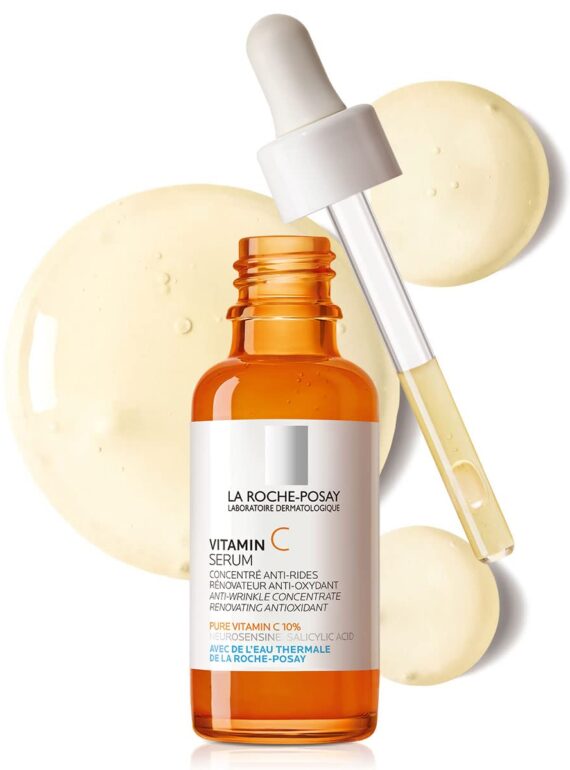 La Roche- Posay Pure Vitamin C10
La Roche-Posay's Pure Vitamin C 10 Serum has a unique component that reduces redness and irritation on the skin. If your skin gets red or irritated with regular Vitamin c serum, then this might be the right pick for you.
What is it? Vitamin c serum with the soothing and exfoliating action
Who can use it? All skin types prone to acne and open pores
Sensitive skin: You give it a try once your skin is calm. Avoid if your skin is red/itchy or burning
Description
Benefits:
Gives you the ageless glow: The serum has ascorbic acid which is the purest form of vitamin C. It is highly rich in antioxidants help correct signs of ageing as it promotes the production of collagen, the protein responsible for making the skin supple and firm.
Promotes even skin tone: It provides an even skin tone and reduces the dark spots by inhibiting excess melanin synthesis, too much production of which leads to hyperpigmentation. It also has vitamin E along with vitamin C helps protect against UVB rays.
Acts as an exfoliator effective against blackheads: The serum has Salicylic acid that cleanses the skin both at surface and also at a deeper level helping to loosen the blocked clogs breaking down the black and white heads.
Soothing: Acetyl Dipeptide-1 Cetyl Ester is a peptide that reduces skin irritation and relaxes your skin by neurological action. Therefore, imparting potent anti-inflammatory and soothing properties to this serum.
Improved skin hydration: Sodium hyaluronate and glycerine help retain the skin moisture due to it's effective water holding capacity.
Additional information
| | |
| --- | --- |
| Gender | Female, Male |
| Skin Type | Normal/Combination, Oily |
| Skin concern | Acne & Blemishes, Ageing/Wrinkles, Pigmentation & Dark Spots, Pores/Blackheads/Whiteheads |
| Senstive skin | Mildly Sensitive, Not Sensitive |
| Regime | Morning |