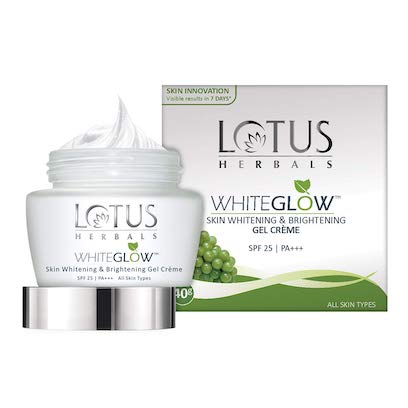 Lotus Herbals Whiteglow Skin Whitening Cream SPF-25
Lotus Herbals Whiteglow Skin Whitening And Brightening Gel Cream SPF-25 is a sunscreen with added advantage of skin lightening and anti-aging. It has many potent skin lightening and anti-ageing ingredients.
What is it? Moisturiser with SPF 25 and skin lightening action
Who can use it? Dry to normal skin prone to tanning
Sensitive skin: Might not suit super-sensitive skin
Goodies: Bearberry extract, Lactic Acid, Milk enzymes, Alpha-arbutin, Vitis Vinifera, Saxifraga extract and Mulberry extracts.
Not so good: Parabens