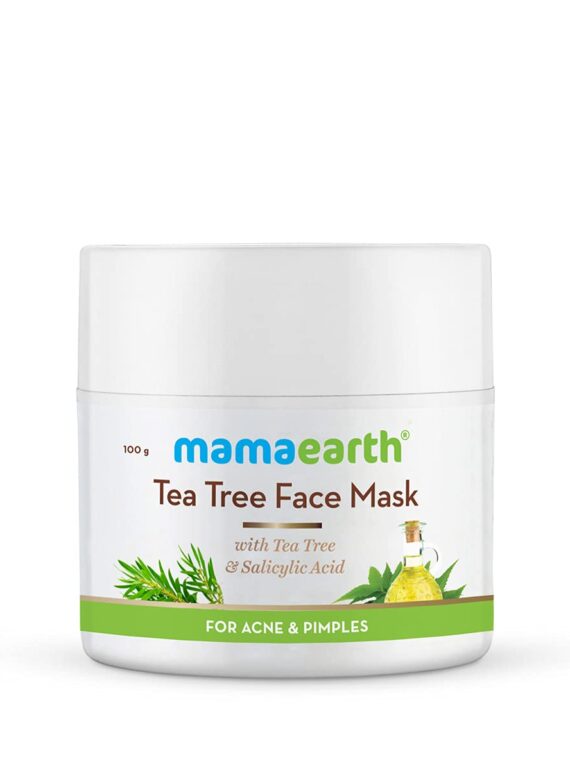 Mama Earth Tea Tree Face Mask
MamaEarth Tea Tree Face Mask is a milestone product when it comes to controlling acne. The blend of Tea tree oil and Salicylic acid controls excess oil secretion, and prevents pore clogging and acne growth.
What is it? Face pack with Tea-tree oil, salicylic acid
Who can use it? All skin types prone to acne
Sensitive skin: Might not suit 
Description
Benefits:
Fights Acne and Pimples: Tea tree has antibacterial and anti inflammatory properties. It naturally fights acne causing bacteria. Also keeps the skin pores purified and clog-free. Salicylic acid keeps the skin pores congestion free. Thus reducing the occurrence of acne and pimples.
Keeps a check on excess oil production: The blend of Salicylic Acid, Kaolin and Bentonite control surplus oil production. This minimizes the large pore size and hence further acne growth.
Reduces post-acne blemishes: Salicylic acid exfoliates both at the surface and deeper levels. Thus reducing the appearance of acne scars.\
Relieves skin discomfort: Aloe Vera makes the skin soft and smooth by retaining the skin moisture. Chamomile Reticulata and allantoin has anti-inflammatory properties.
It soothes the skin and keeps it irritation-free.
Side effects
It has no side effects. A patch test is always recommended for sensitive skin people.
How to use it?
Scrub or wash your face and pat dry. Put a thick layer of mask and relax until it dries up. Rinse off with water. Put on a lightweight moisturiser if your skin feels dry.
Additional information
| | |
| --- | --- |
| Gender | Female, Male |
| Skin Type | Dry, Normal/Combination, Oily |
| Skin concern | Acne & Blemishes, Pores/Blackheads/Whiteheads |
| Senstive skin | Not Sensitive |