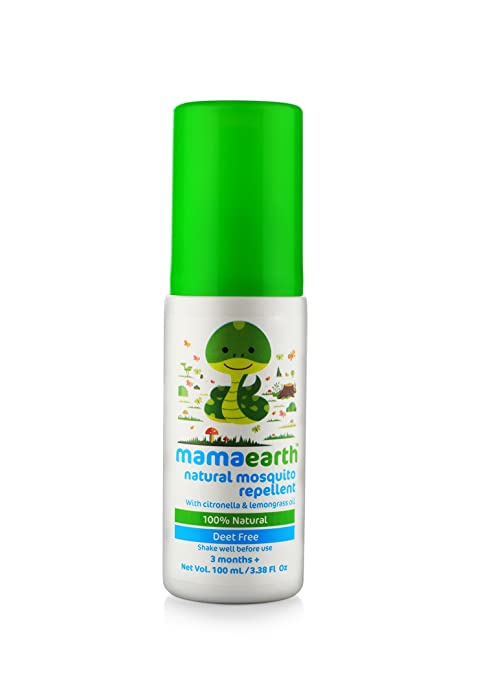 Mamaearth Natural Insect Repellent for babies
Mamaearth Natural Insect Repellent for babies has 4 natural mosquito repellants-lemon grass oil, citronella oil, cedar and soyabean oil.
What is it? Natural mosquito repellant
Who can use it? babies, kids and adults safely for protecting skin from mosquito bites.
Sensitive skin: Might not suit, Best is to use patches on clothes
Description
Pros:
100% natural
Has 4 natural mosquito repellants namely– soya bean oil, lemongrass oil, citronella oil and cedar oil. This combination can repel all kind of mosquitoes including that causing malaria, dengue and chikungunya.
Has a thick creamy base that can provide moisturisation with the help of castor oil and soya bean oil.
Free from chemicals.
Cons:
All-natural mosquito repellants have the disadvantage that the effect is short-lived. Therefore, you should apply this mosquito repellant every 1-2 hours depending on the weather condition and number of mosquitoes,
Do not rely on natural mosquitoes alone if there is an outbreak of malaria, dengue or chikungunya in your area. Please start DEET-based repellants and follow another measure to reduce mosquitoes for maximum protection.
Natural ingredients might not suit if you have allergies, asthma, dry skin etc. Ideally, you should do a patch test before first use by applying a small amount on the back of the ear for 7 days. Do not use if redness, itching or rash occurs.
Additional information
| | |
| --- | --- |
| Gender | Female, Male |
| Body | Musquito Bites |
| Child | Musquito bites |