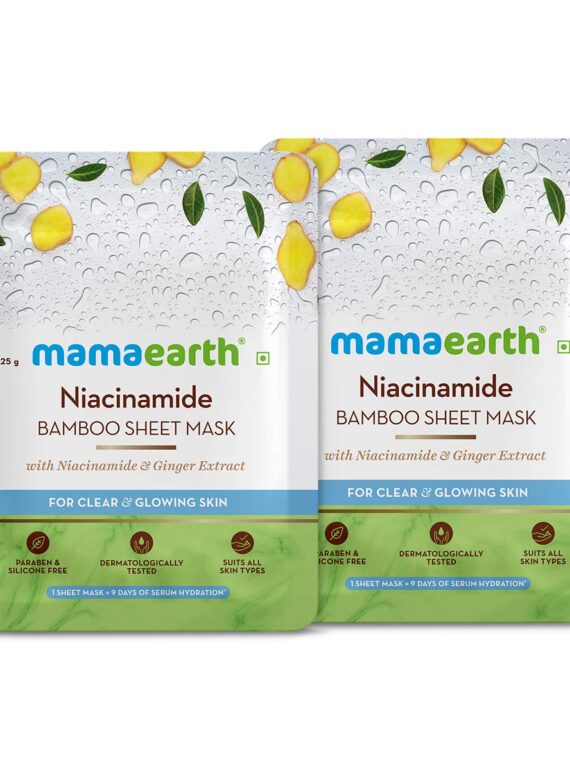 Mamaearth Niacinamide Bamboo Sheet Mask
Mamaearth Niacinamide Bamboo Sheet Mask is a great way to seep the actives into your skin that helps in reducing acne, shrinking pores, and reducing dark spots.
What is it? Sheet mask with Niacinamide, Salicylic acid, tea tree oil
Who can use it? All skin types to reduce open pores, acne and dark spots
Sensitive skin: Can be tried if your skin is calm
Description
Benefits:
Anti-acne: Mamaearth Niacinamide Bamboo Sheet Mask help in reducing all the stages of acne formation:
Salicylic acid reduces oil secretions and blackheads
Tea tree oil reduces red pimples
Allantoin red scars after healing of pimples
Niacinamide reduce post-acne dark spots
Reduces pores: Salicylic acid seeps into the clogged pores while the sheet is resting on your skin. regular use of this sheet reduces clogged pores and shrinks them as well.
Soothes inflamed skin: Acne makes your skin red, allantoin and niacinamide reduce inflammation of acne
Deep nourishment: The mixture of hyaluronic acid, glycerin and water hydrates your skin without blocking the pores.
Side effects
It is unlikely to irritate unless your skin is super-sensitive.
How to use it?
Scrub or wash your face and pat dry. Put the sheet mask on your face until it dries up in 100-15 minutes.
Additional information
| | |
| --- | --- |
| Gender | Female, Male |
| Skin Type | Dry, Normal/Combination, Oily |
| Skin concern | Acne & Blemishes, Pigmentation & Dark Spots, Pores/Blackheads/Whiteheads |
| Senstive skin | Mildly Sensitive, Not Sensitive |
| Regime | Weekly |