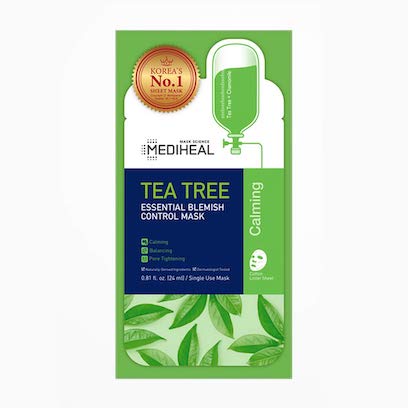 Mediheal Tea Tree Sheet Mask
Struggling with pimples? Tea tree oil is at your rescue in this Korean Mediheal sheet mask. Packed with soothing, anti-inflammatory, skin lightening and anti-acne ingredients is a must try for acne prone skin.
What is it? Sheet mask with anti-acne and soothing benefits
Who can use it? Oily to combination skin prone to acne
Sensitive skin: Might irritate
Description
Benefits
Anti-acne: Tea tree oil has many studies to support its action on acne. A sheet mask allows deep penetration of oil into your skin for maximum benefits. In addition willow bark extract and sage also reduce pimples.
Reduce red scars: It has many anti-inflammatory botanicals like Gotu kola, Soyabean extracts, Houttuynia Cordata Extract, Cymbopogon Schoenanthus Extract, Allantoin and Panthenol. They reduce inflammation associated with red pimples and red acne scars.
Reduce post-acne brown spots: Soyabean and licorice extracts in this mask help in reducing pigmentation left after healing acne.
Hydrates your skin: It provides deep hydration and nourishment to your skin with non-comedogenic ingredients.
Cons:
It might not suit sensitive skin because it has many herbs. Discontinue, if you experience redness, irritation or burning, or bumps on applying this mask.
How to use?
Use once a week after scrubbing face. Leave for 10-15 minutes and massage the residue left after removing.
Additional information
| | |
| --- | --- |
| Gender | Female, Male |
| Skin Type | Dry, Normal/Combination, Oily |
| Skin concern | Acne & Blemishes |
| Senstive skin | Mildly Sensitive, Not Sensitive |
| Regime | Weekly |