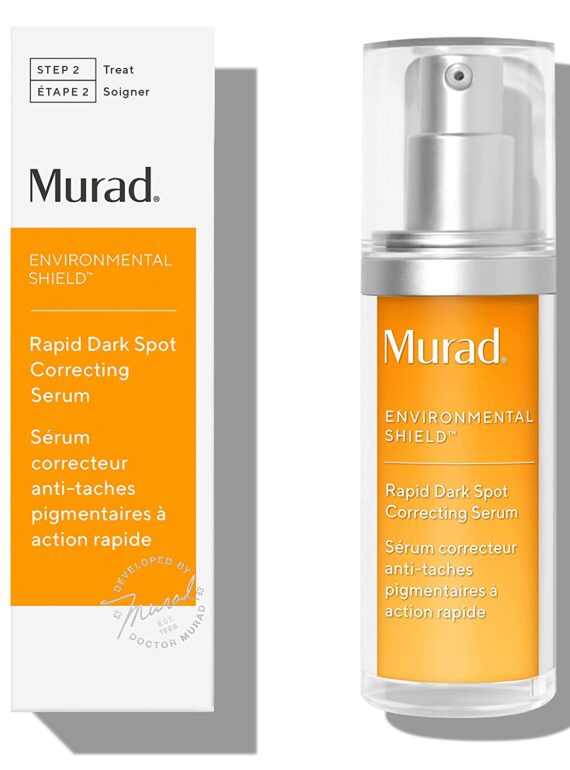 Murad Rapid Dark Spot Correcting Serum
Murad Rapid Dark Spot Correcting Serum is a one-stop solution that reduces the appearance of post-acne brown scars and hyperpigmentation.
What is it? Potent skin lightening serum
Who can use it? All skin types prone to dark spots and patches. Use on dark spots/patches only to promote even skin tone.
Sensitive skin: Do not use it on red, irritated or burning skin. Start once your skin is calm.
Description
Murad Rapid Dark Spot Correcting Serum Benefits
Potent skin lightening action: It has a potent blend of proven skin lightening agents like glycolic acid, tranexamic acid, resorcinol, Hexapeptide and licorice.
Fights against acne: Zinc gluconate and Alcohol Denat. helps fight acne owing to its antibacterial and anti-inflammatory properties. Its sebum regulating properties keeps a check on sebum control hence inhibiting acne on the face.
Exfoliates dead skin: Glycolic Acid exfoliates the skin by gentle removal of surface dead skin cells resulting in brighter even skin tone.
Makes skin naturally radiant: Tranexamic acid and Hexapeptide-2 help in fading the brown spots caused by hyperpigmentation. It helps you achieve a natural glow with an even skin tone.
Hydrating and soothing on skin: Glycerin and Urea retain the skin moisture thereby helping in skin conditioning.
Soothing: Licorice and Comfrey plant extract helps in soothing the skin owing to its anti-irritant properties.
Murad Rapid Dark Spot Correcting Serum Side Effects
Glycolic acid might increase skin sensitivity to the sun. however, we could not find the exact percentage of Glycolic acid used in this serum.
Secondly, it might not suit if your skin is naïve to potent ingredients. Read the instruction in the next section carefully before starting this product.
How to use it?
We recommend introducing this agent gradually if you are new to potent skin-lightening agents. Start by applying on the dark spots at night for 1 hour. Gradually build up the time from 1 to 3 hours and then, overnight every 3-7 days depending on the tolerability.
If you notice redness or irritation, wash off and mix it with bland moisturising cream. Gradually, increase the concentration. If you cannot tolerate this product without mixing, then continue use with dilution only.
Glycolic acid can increases sensitivity to the sun, make sure you wear a good quality sunscreen daily.
If you notice that your skin is getting slight red, irritated or itchy on prolonged use, skip this product for a week to give a break to the skin.
Stop using this product 3 days prior to using a harsh treatment like bleach or waxing on your face.
Can I use the serum on full-face?
Yes, You can put this serum on full-face if your goal is skin brightening and de-tanning, provided it suits you well.
If your target is to reduce dark spots/patches, then start with spot treatment until spots lighten up. Once spots start blending, put this serum on the full face for even skin tone.
Additional information
| | |
| --- | --- |
| Gender | Female, Male |
| Skin Type | Dry, Normal/Combination, Oily |
| Skin concern | Pigmentation & Dark Spots |
| Senstive skin | Mildly Sensitive, Not Sensitive |
| Regime | Night |