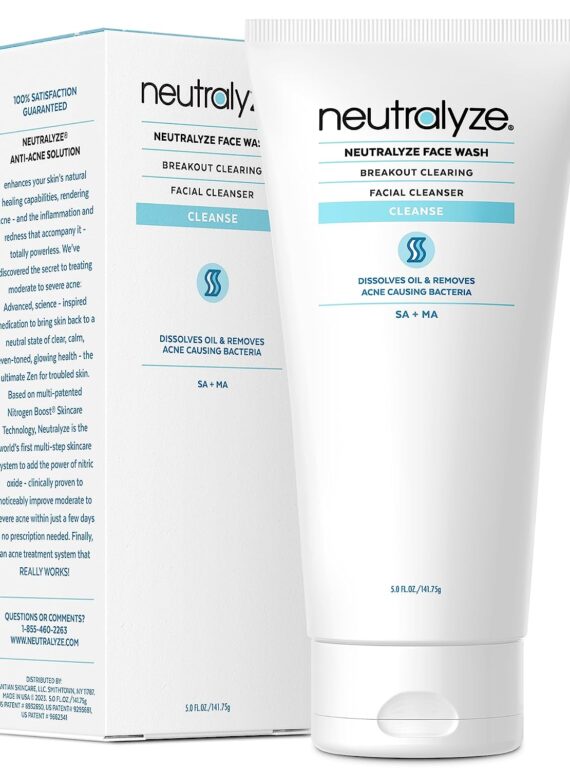 Neutralyze Acne Face Wash Review
Neutralyze Acne Face Wash is a foaming cleanser with the goodness of AHA, and BHA is a gentle foaming base. It is must try for oily to normal skin prone to acne. However, there might be better choices for dry and sensitive skin.
Please read the description for our dermatologist's ingredient-based review of Neutralyze Face Wash.
What is it? Salicylic acid and mandolin acid face wash
Who can use it? Normal to Oily skin prone to acne, blackheads and open pores
Where to buy? Amazon.com and Amazon.in
Sensitive skin: Might irritate
Goodies: Salicylic Acid 2%, Mandelic acid 1%
Description
5 Benefits of Neutralyze Acne Face Wash
Reduces oiliness and opens pores
Salicylic acid 2% is BHA (Beta Hydroxy Acid) that seeps into your oil glands, removing clogged pores and reducing oil secretion.
Controls Acne
What is the first step in pimple formation? Oily skin leads to clogging of pores. Clogged pores eventually turn into whiteheads and blackheads. Salicylic acid controls acne by reducing oil secretions and clearing up blocked pores.
Reduce post-acne marks
Mandalic acid in this face wash is a gentle AHA that brightens up your skin and prevents dark spots formation.
Gentle cleanser
Neutralyze Acne Face Wash is a sulfate-free face wash with two mild surfactants: Sodium C14-16 Olefin Sulfonate and Cocamidopropyl, Betaine. They remove extra oils from your skin without creating the usual stretch or dry feel of acne face wash.
Safe ingredients
While being rich in benefits, the ingredients list of Neutralyze Acne Face Wash is simple and clean. It does not contain all the so-called nasty ingredients like parabens, sulfates, phthalates, TEA, MCI, etc.
The company also claims that they never test their products on animals.
Neutralyze Acne Face Wash Side effects
Neutralyze Acne Face Wash is safe to use. However, if your skin reacts to skincare products often, you might have to use it cautiously. Avoid this face wash if you have noticed a reaction with AHA or BHAs.
Additional information
| | |
| --- | --- |
| Gender | Female, Male |
| Skin Type | Oily |
| Skin concern | Acne & Blemishes, Pores/Blackheads/Whiteheads |
| Senstive skin | Not Sensitive |
| Regime | Morning, Night |