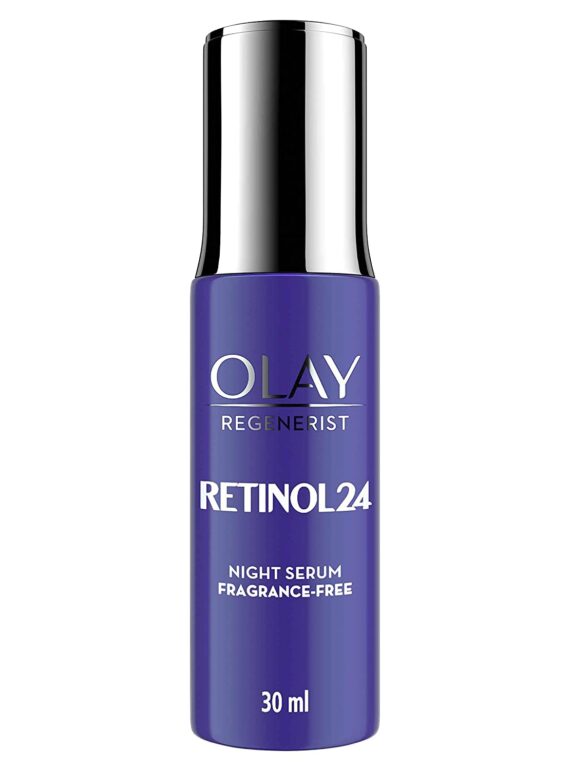 Olay Regenerist Retinol 24 Night Serum
Olay Regenerist Retinol 24 Night Serum is used in anti-ageing treatment on oily to normal skin. Loaded with Olay's proprietary skin-repairing retinol complex, the serum fits into your night routine.
What is it? Anti-ageing serum with retinoids and peptides.
Who can use it? Normal to oily skin for delaying signs of ageing.
Can I use it on sensitive skin? Retinoids might irritate sensitive skin, However, if your skin is calm, then you can introduce this product gradually.
Goodies: Retinol, Retinyl Palmitate, Palmitoyl Pentapeptide-4, Niacinamide
Not so good: DMDM Hydantoin
Description
Olay Regenerist Retinol 24 Night Serum benefits
Anti-ageing – Olay Regenerist Retinol 24 Night Serum is a perfect mix of retinoids and peptides based on anti-ageing. It has 2 forms of retinoids namely, Retinol and Retinyl Propionate. They are one of the most effective ingredients in skincare when it comes to rejuvenating damaged or ageing skin. Retinoids decrease wrinkles and fine lines of facial skin, by making the skin thicker and firmer. In addition, Palmitoyl Pentapeptide-4 boosts the synthesis of collagen.
Anti-acne – Niacinamide is responsible for faster healing of the inflammation caused by acne, decreasing the number of pimples.
Reduce oil secretion: Retinoids reduce sebum production leading reduction in greasy look, open pores, whiteheads and blackheads.
Brightening of skin surface – Niacinamide or nicotinamide is also used for rendering a glow to the skin.
Supply of moisture – Glycerine and Niacinamide act as natural moisturisers, which provide hydration to skin cells.
How to use it?
Olay Regenerist Retinol 24 serum should be used at night after washing your face. Put a few drops on the face and gently massage until it gets absorbed. Wait for 15-30 minutes. If your skin feels dry and stretched, put on a layer of bland moisturiser.
Additional information
| | |
| --- | --- |
| Gender | Female, Male |
| Senstive skin | Mildly Sensitive, Not Sensitive |
| Skin Type | Normal/Combination, Oily |
| Skin concern | Acne & Blemishes, Ageing/Wrinkles, Pigmentation & Dark Spots, Pores/Blackheads/Whiteheads |
| Regime | Night |