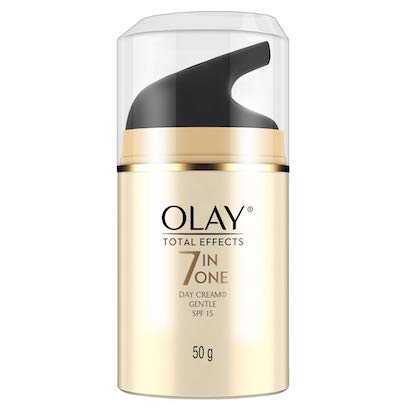 Olay Total Effect 7 in 1 cream SPF 15
Olay total effect 7 in one SPF 15 used daily in the morning if you stay indoors. It can prevent ageing, tanning and uneven skin. It is suitable for normal to oily skin. For dehydrated skin, moisturise your skin before applying it. Olay 7 in one cream repairs, lightens and delays ageing with the help of Vitamin C, E, B5, B3 and Green tea.
What is it? A moisturiser with SPF 15
Who can use it? Normal to combination skin type
Sensitive skin: Might not suit super-sensitive skin
CHECK PRICE ON: Amazon.in and Amazon.com
Description
Olay Total effect 7 in one cream benefits
Olay 7 in one cream promises to delay 7 sign of skin ageing. We have posted our views on each of them below:
1. Visibly reduces dark spots: Olay Total 7 effects prevent dark spots by providing SPF 15 along with Vitamin C & Niacinamide. However, it might not remove stubborn pigmentation. 
2. Gives firm-looking skin: This seems to be overclaimed.
3. Radiant and glowing skin: The ingredients in Olay 7 in 1 cream help in maintaining skin healthy and radiant. But it should be combined with other potent agents that address your key skin concern.
4. Visibly reduces lines & wrinkles:  Olay Total 7 effects might delay (not reduce) fine lines if combined with other anti-ageing agents. This cream has Vitamin C and Vitamin E. They prevent the destruction of collagen and elastin fibres.
5. Gives soft & smooth skin: Olay total effect has skin hydrating ingredients that can make your skin soft.
6. Gives even skin tone: Olay total effect can help in maintaining your even skin tone with the help of SPF 15, and a daily dose of Vitamin C, E, B3, B5.
7. Visibly reduces pore size: We could not find an ingredient that can reduce pore size.
Olay Total effect 7 in one cream side effects
Olay total effects 7 in one cream has no side effects. However, it might irritate very sensitive or allergic skin. Discontinue use if you notice redness, itching, rash or bumps.
Variants
Olay Total Effect 7 in one cream is a trusted brand in the market for years. It is available in the following versions:
DAY VARIANTS
Day cream (normal) without SPF- normal skin
Day cream  with SPF 15- normal skin
Day cream with a touch of foundation SPF of 15 -normal skin
Lightweight with SPF of 15 for oily skin type
NIGHT VARIANTS
Night cream- normal skin type
Night serum- for oily skin type
All of the above have similar active ingredients.  We do not like the night variant because it does not contain potent anti-ageing ingredients.  The Olay Regenerist and Collagen Peptide are better options, as discussed in this article, Anti-ageing Routine- Dermatologist Recommended
Additional information
| | |
| --- | --- |
| Skin Type | Dry, Normal/Combination, Oily |
| Skin concern | Pigmentation & Dark Spots, Pores/Blackheads/Whiteheads |
| Senstive skin | Mildly Sensitive, Not Sensitive |
| Gender | Female, Male |
| Regime | Morning |