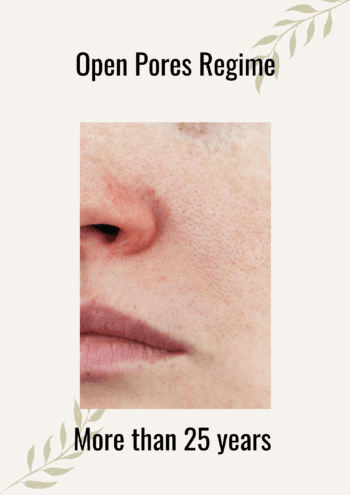 Open pores regime >25 years
How to close pores permanently? Open pores are unlikely to shrink after the age of 25 years. In fact, as skin aging starts, it will become more prominent. Therefore, you should use Vitamin C, salicylic acid, and Retinol in your skincare regime to reduce and prevent open pores.
What is this? Skin care regime for open pores more than 25 years of age
Who can use it? Oily to normal skin type prone to open pores
Sensitive skin: If you have dry and sensitive skin, then we highly recommend consulting a dermatologist for your open pores
Description
MORNING REGIME
 Step 1: Facewash
Removing excess oils, dust, dirt, and pollutants from your face is essential. However, your face should not feel dry and stretched after face wash. You can wash your face a maximum of three times a day. You can choose from the following list based on your skin type:
Here are a few brand suggestions: 
Step 2: Moisturiser
The purpose of a moisturizer is to deliver an active agent to your skin without further occluding your pores. We recommend starting Vitamin C serum in the morning, starting at 20. Vitamin C delays aging, promotes skin repair, and brightens up. In the long run delays open pores formation by slowing the aging process.
Therefore, we recommend using the following vitamin C serum that also contains salicylic acid:
Step 3: Sunscreen
Thick sunscreen can increase open pores. Therefore, use a lightweight sunscreen in gel or fluid form. Re-apply it 30 minutes before stepping out in the sun. Avoid using sunscreen indoors to avoid unnecessary clogging of pores. Here is a lightweight sunscreen that is less likely to occlude your pores:
In addition, avoid heavy makeup or layering of products. You can put lightweight makeup on top of the sunscreen.
AFTERNOON REGIME:
Wash your face in the afternoon if your skin feels oily. Suppose you can't wash your face at the workplace, then wipe your face with cotton dipped in micellar water to remove excess oils and give an instant matt look. Re-apply sunscreen 30 minutes before going out in the sun.
NIGHT REGIME
Remove makeup with micellar water rather than a cleansing lotion. Wash your face and apply Retinol at night. Retinol controls oil secretion, exfoliates your skin, boosts collagen synthesis, and delays skin sagging. Regular use of Retinol is essential to prevent and treat open pores. You can choose from this list of Retinol. Here are a few options:
If your skin feels dry after using Retinol, put on a lightweight moisturizer like Cera ve moisturizing lotion after 15 minutes. Avoid thick creams.
WEEKLY
Once or twice a week, scrub your face gently and apply a face mask or pack.
Step 1: Scrubs reduce build-up and prevent black/whiteheads and open pores. Neutrogena blackhead eliminating scrub is a good choice.
Step 2: Apply face pack/sheet with multani mitti to tone up your skin and temporarily shrink the pores. MamaEarth Tea Tree Face Mask is a blend of Tea tree oil and Salicylic acid controls excess oil secretion, and prevents pore clogging and acne growth.
MONTHLY:
You can also do an at-home peel monthly to exfoliate debris clogging the pores. However, follow the exact guidelines to avoid any side effects.  The Ordinary AHA BHA peel is a good choice for beginners.
Additional information
| | |
| --- | --- |
| Gender | Female, Male |
| Skin Type | Dry, Normal/Combination, Oily |
| Skin concern | Pores/Blackheads/Whiteheads |
| Senstive skin | Mildly Sensitive, Not Sensitive |