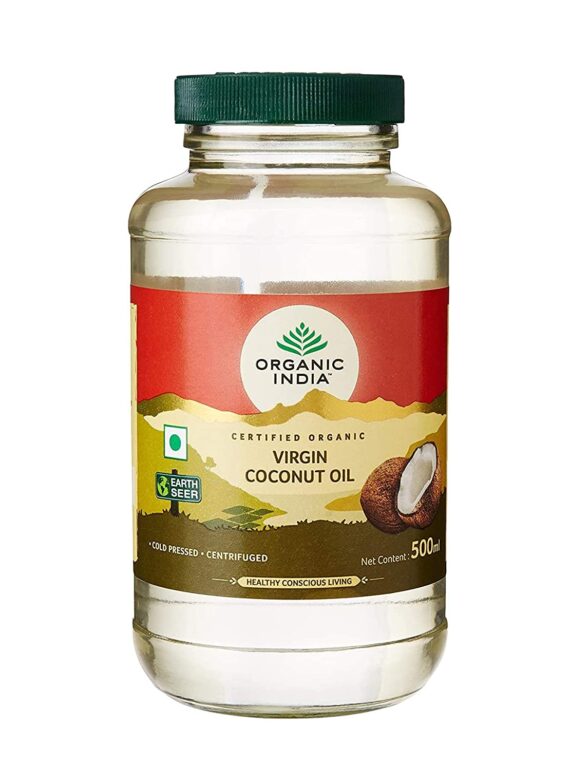 Organic India Cold Pressed Virgin Coconut Oil
We recommend pure virgin coconut oil for
Massaging babies regularly before bath
Hydrating eczema prone skin

As hair oil for sentice scalp prone to itching and allergies with regular hair oils.
What is it? Cold Pressed Virgin Coconut Oil for hair, face and skin
Who can use it? Dry skin and scalp prone to allergies, itching and eczema. We recommend massaging skin of baby with coconut oil only Avoid mixtures of oil available in market.
Sensitive skin: Yes
Description
Benefits
Coconut oil is the only oil that has been studied extensively for safety in eczema prone skin.
Helps in weight gain: Studies done on pre-term infant show that daily massage with coconut oil helps in weight gain and prevents infection. This effect can be attributed to both massaging and coconut oil.
Improves skin barrier: Coconut oil help in improving the skin barrier which is desirable in the case of both eczema prone skin and tender skin of babies.
Reduces eczema: Coconut oil has anti-inflammatory and anti-infection benefits that are help full in reducing skin dermatitis especially Atopic dermatitis.
Cons:
Coconut oil allergy is very rare, but it can occur.
Which coconut oil is best?
Coconut oil that is close to its natural state is best. Therefore, we recommend cold pressed virgin cocnut oil for maximum benefit. You can choose form any authentic brand that is available easily.
Additional information
| | |
| --- | --- |
| Gender | Female, Male |
| Child | Atopic dermatitis, Baby skin care |
| Child age | 0-3 years, 3-5 years, 5-12 years |
| Body | Dry skin, Eczema or allergy |
| Skin Type | Dry |
| Skin concern | Ageing/Wrinkles, Pigmentation & Dark Spots |
| Senstive skin | Highly Sensitive, Mildly Sensitive, Not Sensitive |
| Regime | Morning, Night |