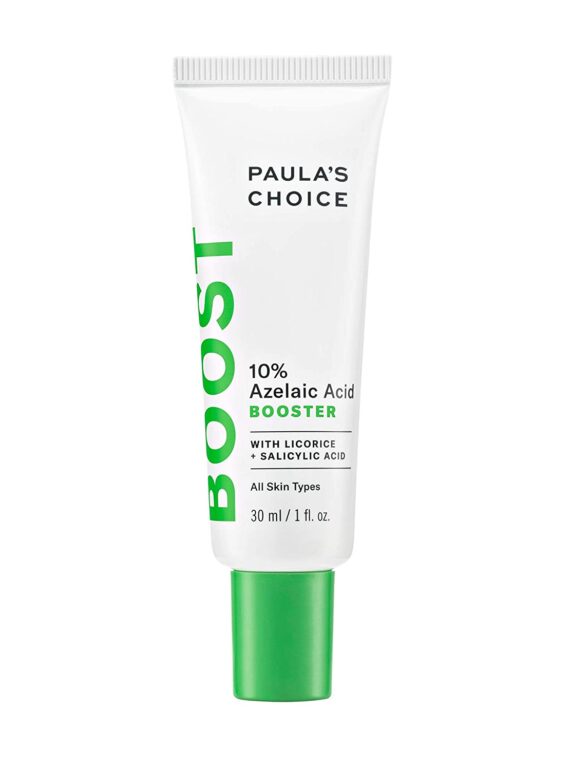 Paula's Choice BOOST 10% Azelaic Acid Booster Cream Gel
Paula's Choice 10 % Azelaic Acid Booster is a lightweight oil-free gel that can be used for all skin types. It is a potent blend of azelaic acid, salicylic acid and soothing plant-based derivatives. It helps in reducing acne, rosacea and post-acne marks.
What is it? Gel with skin lightening, anti-acne and skin-soothing action
Who can use it? All skin types prone to acne, pigmentation, post-acne marks, and rosacea.
Sensitive: Do not use on red, irritated or burning skin. Start once your skin is calm.
Description
Paula's Choice 10 % Azelaic Acid Booster Side Effects
Beneficial for acne-prone skin: The mixture of azelaic acid, salicylic acid, licorice and soothing agents in this product works on all the steps of action:
Oil control
Remove the dead cells
Reduces the inflammation caused by blemishes.
Heals the pigmentation spots left after healing of acne
Brightens and even tones the skin: Licorice root extract and Azelaic acid are 2 superstar ingredients when it comes to skin lightening and depigmentation properties. They help fade away the dark spots giving a clearer look to the skin.
Soothes rosacea-prone skin: Allantoin, adenosine and Boerhavia extract along with azelaic acid soothe the redness of rosacea.
Hydrates: Glycerine and propanediol add to the skin hydration.
Paula's Choice 10 % Azelaic Acid Booster Side Effects
Azelaic and Salicylic Acid cleansing may take time to suit your skin.
It can be drying for dry skin types.
While it can be used for sensitive skin, introduce it only after calming your skin.
How to use it?
We recommend introducing this agent gradually if you are naïve to potent ingredients. Start by applying for an hour on the dark spots/pimples. Gradually build up the time from 1 to 3 hours and then, overnight every 3-7 days depending on the tolerability. Azelaic acid does not react with the sun, therefore, can be used in the morning.
Additional information
| | |
| --- | --- |
| Gender | Female, Male |
| Skin Type | Dry, Normal/Combination, Oily |
| Skin concern | Acne & Blemishes, Pigmentation & Dark Spots |
| Senstive skin | Mildly Sensitive, Not Sensitive |
| Regime | Morning |