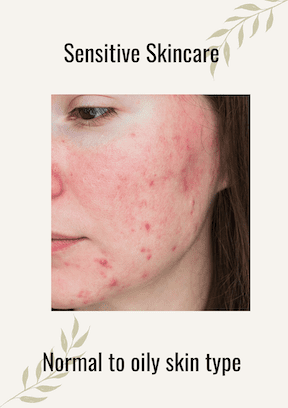 Sensitive skincare routine
Sensitive skin symptoms include redness, burning, and sometimes bumps, primarily on the central part of the face, triggered by sun, harsh skincare products, intense emotions, heat, alcohol, and stress. Sensitive skincare routine focuses on calming your skin, as discussed below.
What is it? Sensitive skincare routine
Which skin type?  Oily to normal skin type
Description
Once your skin is irritated, it needs a break. Therefore, stop all skin care products, parlor procedures, and topical medicines. As discussed below, use bland skincare products in the morning and night to calm your skin. After your skin recovers, gradually introduce one skincare product at a time. 
MORNING AND NIGHT REGIME:
Step 1 Face wash
The right type of cleanser that does not irritate sensitive skin is essential. Even if your skin is greasy, avoid a harsh face wash because it can damage the skin barrier. In addition, avoid overzealous cleansing, scrubbing or rubbing your skin with the towel. 
You need a gentle foaming face wash that removes excess oils without damaging skin integrity.
Brand suggestions:
Step 2: Rosewater
Spray organic rose water on your face and massage it gently until absorbed. The idea is not to use rose water as a toner but to let it seep into your skin to soothe it. 
Brand suggestions: Pure and Organic Rose Water: Dermatocare Research
Step 3: Moisturiser
Put ceramide-based moisturisers every 3-4 hours to hydrate and repair your skin.
Brand suggestions:
Step 4: Physical sunscreen
Sun is a trigger for rosacea or sensitive skin. Therefore, dermatologists recommend using physical sunscreen (not chemical) before stepping outside.
Brand suggestions:
Additional information
| | |
| --- | --- |
| Gender | Female, Male |
| Skin Type | Normal/Combination, Oily |
| Senstive skin | Highly Sensitive |