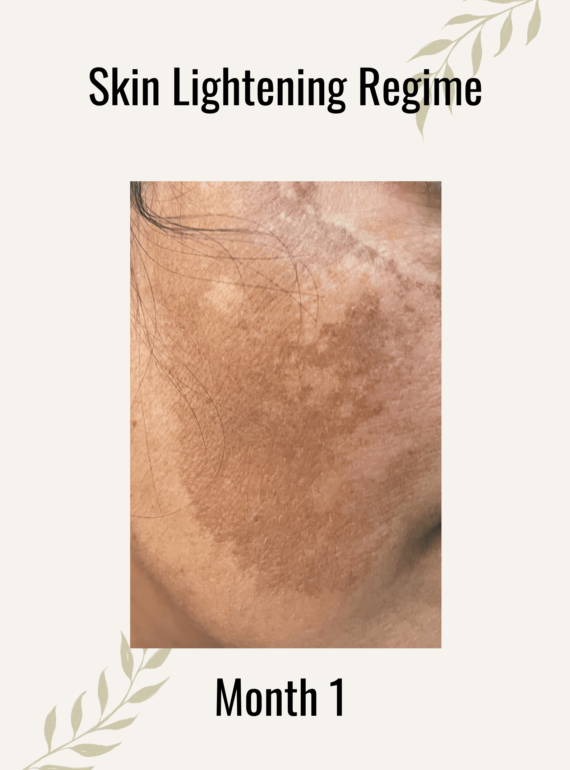 Skin Lightening Regime (Month 1)
If you are having pigmentation in the form of dark patches/spots, tanning or uneven skin tone, then this skin lightening regime is for you. We have created a series of 3 regimes to gradually increase the potency of skin-lightening agents to get the best results.
What is it? Skin lightening regime for sensitive skin or for those who are new to strong skin lightening products.
Who can use it? All skin types with Pigmentation
Sensitive skin: You can try only if your skin is calm for a long time. Avoid if your skin is irritated, burning or itchy.
After completing Month 1, you can shift to Month 2 of the skin lightening regime.
Description
MORNING REGIME
Step 1 Face wash
The objective of washing is to clean the face without making it dry or oily. Based on your skin type, you can choose from the following:
Step 2: Skin Lightening cream
In month 1, we will start with agents like Vitamin C and Kojic acid in the morning regime. Here are a few suggestions:
Step 3: Sunscreen
Your skin tends to get darker after exposure to the sun. Therefore, sunscreen is essential for preventing the darkening of your skin during sun exposure.
Sunscreen should be applied 30 minutes before stepping out—repeat thrice in case of prolonged sun exposure. Apply a teaspoon to the face and neck to achieve full SPF. Ideally, SPF 30 is enough. But we don't apply thick layers of sunscreen. Therefore, an SPF of 50 is preferable. You can choose from this list of sunscreens; here are a few recommendations:
You can put makeup on top of sunscreen if you wish to.
NIGHT REGIME:
Step 1 Face wash
The objective of washing is to clean the face without making it dry or oily. Based on your skin type, you can choose from the following:
Step 2: Skin Lightening cream
At night, we can use firmer skin lightening agents like Hydroquinone, glycolic acid, mandelic acid,  and lactic acid. We recommend using mandelic acid, lactic acid, or low-strength glycolic acid in the first month, especially if your skin is sensitive. Here are a few suggestions:
EAT MULTIVITAMIN DAILY
Many cases of pigmentation fail to respond because their Diet is not balanced. We recommend eating multivitamins for three months to replenish the deficient stores and aid in skin rejuvenation from within. Here are few suggestions:
Additional information
| | |
| --- | --- |
| Gender | Female, Male |
| Skin Type | Dry, Normal/Combination |
| Skin concern | Pigmentation & Dark Spots |
| Senstive skin | Mildly Sensitive, Not Sensitive |