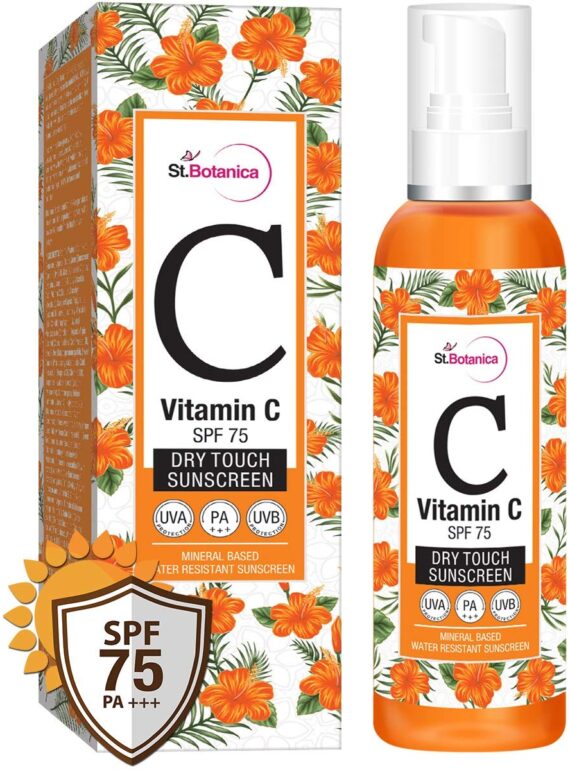 St Botanica Vitamin C Sunscreen
St Botanica Vitamin C sunscreen is a chemical and physical-based sunscreen with the added advantage of Vitamin C, Vitamin E, Arbutin and other herbal extracts.
St Botanica Vitamin C Sunscreen can be used for normal to dry skin types with pigmentation and aged skin. St Botanica Vitamin C Sunscreen should be used cautiously for acne or sensitive skin. It might make your face oily.
What is it? Sunscreen with SPF 75 and added advantages of skin lightening and anti-ageing benefits.
Who can use it? Normal to dry skin types exposed to the sun regularly
Sensitive skin: Might not suit
CHECK PRICE ON Amazon.in
Description
St Botanica Vitamin C SunscreenBenefits
A broad-spectrum sunscreen that gives good coverage against both UVA and UVB rays. It has a mixture of physical and chemical sunscreen that can effectively work together for maximum protection.
Repair skin damage caused by damaging UV rays with the help of 3 forms of Vitamin C present in it namely, Sodium ascorbyl phosphate, 3-O ethyl ascorbic acid and Magnesium ascorbyl phosphate.
Vitamin C added to this sunscreen might have some anti-ageing action.
Skin-lightening benefits with the help of Arbutin, Licorice, Turmeric, Amla, lemon essential oil etc.
Skin-calming action with the help of allantoin, saffron, rose, sandalwood and Vitamin B3.
Safe: The good part is that it does not contain Parabens, BHT, Phthalates etc, but It has added fragrance and colouring agents.
St Botanica Vitamin C Sunscreen side effects
It has a chemical sunscreen called Ethylhexylmethoxy cinnamate or octinoxate that might cause hormone imbalance. Therefore, avoid using this sunscreen in kids and during pregnancy. Unfortunately, Ethylhexylmethoxy cinnamate is present in 90% of chemical-based sunscreen available in India.
Cautious use is recommended, especially if your skin is very sensitive, because it has many herbs, chemical sunscreen and fragrances.
Additional information
| | |
| --- | --- |
| Skin Type | Dry, Normal/Combination |
| Skin concern | Ageing/Wrinkles, Pigmentation & Dark Spots |
| Senstive skin | Not Sensitive |
| Gender | Female, Male |
| Regime | Morning |