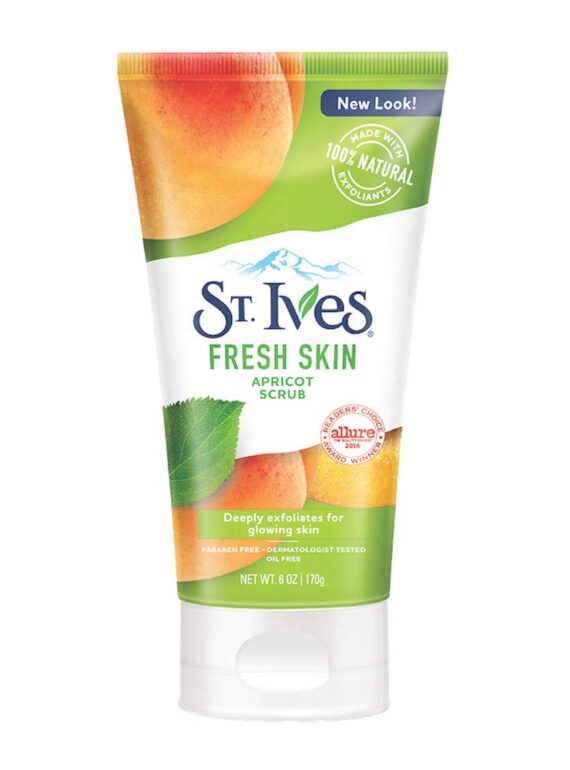 St Ives Fresh Skin Apricot Face Scrub
If you are for looking deep exfoliation for your robust skin, especially in the case of males, then St Ives Fresh Skin Apricot Face Scrub is a good choice. It has a mixture of Apricot and Walnut scrub
What is it? Face scrub
Who can use it? Oily to normal skin prone to dullness and uneven skin tone
Sensitive skin: Avoid
Description
Deep exfoliation: A combination of Apricot and walnut scrub physically removes the dead skin cells sticking to the surface of your skin.
Improve skin texture: Physical exfoliation of dead skin cells leads to smoother skin texture and even skin tone.
Reduces black/white heads: Scrubs help in removing the dust, grime and dead skin cells clogging pores.
St Ives Fresh Skin Apricot Face Scrub does deep exfoliation. Therefore, avoid using this scrub if your skin is sensitive, dry, bumpy or allergic. Avoid overzealous scrubbing. Follow the instructions given in the next section.
The abrasive action of scrub depends on the force and time used for scrubbing. You should gently move this scrub on your face to avoid undue pressure that can cause microtrauma on your skin. Keep the scrubbing session short. Use it once or twice a week.
Additional information
| | |
| --- | --- |
| Gender | Female, Male |
| Skin Type | Normal/Combination, Oily |
| Skin concern | Acne & Blemishes, Ageing/Wrinkles, Pigmentation & Dark Spots, Pores/Blackheads/Whiteheads |
| Senstive skin | Mildly Sensitive, Not Sensitive |
| Regime | Weekly |