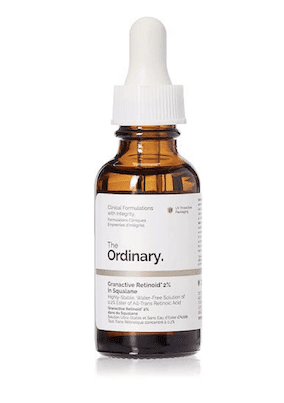 The Ordinary Granactive Retinoid 2%
The Ordinary Granactive Retinoid is a less irritating form of retinoid with high potency. However is it better than retinol? Read Description to know the answer.
What is it? Retinoid based anti-ageing serum
Who can use it? Normal to oily skin to delay signs of ageing.
Sensitive skin usage: Retinoid might irritate sensitive skin. They should not be used in dry and sensitive skin.
Goodies: Granactive Retinoid, Rosemary leaf extract, Bisabol
Not so good: None
Description
The Ordinary Granactive Retinoid benefits
Anti-ageing: Retinoids are the oldest and researched anti-ageing molecule. Granactive retinoid is the latest addition with some initial promising research. With regular use, you can expect better skin texture, reduction in fine lines and even skin tone.
Skin soothing: The Ordinary Granactive Retionoid has anti-oxidants like Rosemarinus Officinalis (Rosemary) leaf extract and Bisabol. They help in repairing damaged skin cells and work in unison with retinoid to reverse skin ageing.
Hydration: Considering drying nature of retinoids, this serum has variety of hydrating ingredients.
The Ordinary Granactive Retinoid side effects
Though, labeled as less irritating retinoid. We still recommend you to start this product gradually as discussed in this article, Best retinoid or Retinaldehyde.
What is Granactive retinoid?
It is less irritating derivative of most potent retinoid called as tretinoin. The other name of Granactive retinoid is Hydroxypinacolone retinoate (HPR).
Is Granactive retinol really better than retinol?
The answer is debatable. Study done in 2016, compared retinol, Granactive retinoid and tretinoin. They found that the Granactive retinoid had better collagen boost than retinol.
However, this study was done on skin model. There aren't many robust studies to prove that Granactive retinoid is better than retinol. You can try Granactive Retinol if retinol 1 % does not suits you. You can also switch between the two and decide which one gives you better results.
Additional information
| | |
| --- | --- |
| Gender | Female, Male |
| Skin concern | Ageing/Wrinkles |
| Skin Type | Normal/Combination, Oily |
| Senstive skin | Not Sensitive |
| Regime | Night |