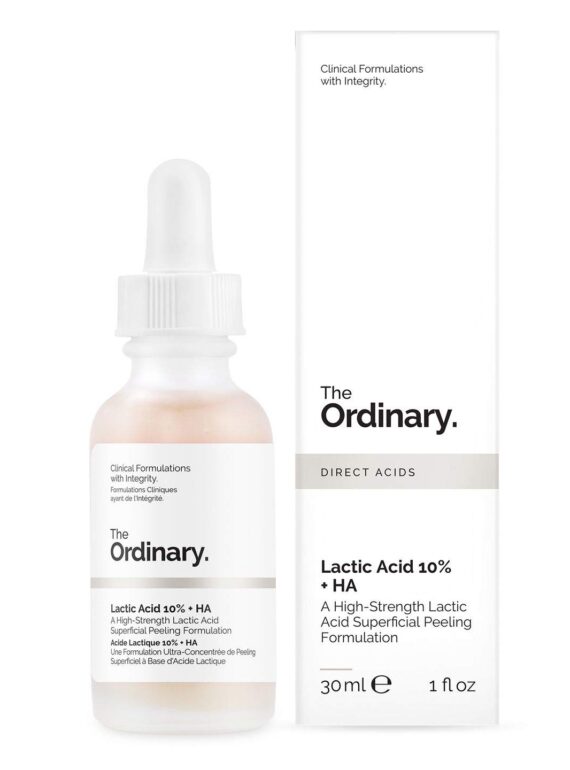 The Ordinary Lactic Acid 10%+ 2% HA Solution
If looking for a lightweight serum formulation to achieve a skin texture devoid of acne scars, pigmentation and signs of ageing then the Ordinary Lactic acid will be your ideal pick. This product helps to achieve an even skin tone.
What is it? Skin lightening serum with 10% lactic acid
Who can use it? All skin types prone to skin pigmentation, post-acne marks, uneven skin tone
Sensitive skin: Avoid using on sensitive skin. You can use the 5% lactic acid variant if your skin is calm as a spot treatment for dark spots at night.
2 Variants: 5% Lactic acid- for a mild case and 10% Lactic acid for severe cases
Description
The Ordinary Lactic Acid 10% Benefits
Gently exfoliates the skin: Lactic acid (10%) is an Alpha Hydroxy Acid (AHA) that works as a mild superficial formulation exfoliating the dead skin cells from the top surface, also stimulating cell regeneration.
Reduce dark spots: Lactic acid also has skin lightening cation, that help in reducing uneven skin tone, tanning, dark patches and post acne skin discoloration.
Soothing: Tasmannia Lanceolata fruit extract has potent antioxidant properties that helps in reducing irritation caused by Lactic acid. It also works as an anti-inflammatory agent providing a soothing effect on the skin.
Keeps your skin hydrated for long: Sodium hyaluronate cross polymer which is a cross-linked polymer of hyaluronic acid has remarkable water holding capacity that helps retain the moisture of the skin. Glycerin and Pentylene glycol too work as effective skin humectants.
The Ordinary Lactic Acid 10% Side Effects
Lactic acid 10% might not suit if your skin is naïve to potent ingredients. Read the instruction in the next section carefully before starting this product.
How to use it?
We recommend introducing this agent gradually. Start by applying for an hour on the dark spots only at night. If you notice redness or irritation, was off and mix it with bland moisturising cream. Gradually, increase the concentration. If you cannot tolerate this product with mixing, then continue use with dilution only. Gradually build up the time from 1 to 3 hours and then, overnight every 3-7 days depending on the tolerability.
AHA increases sensitivity to the sun, make sure you wear a good quality sunscreen daily. If you notice that your skin is getting slight red, irritated or itchy on prolonged use, skip this product for a week to give a break to the skin. Stop using this product 3 days prior to using a harsh treatment like bleach or waxing on your face.
Additional information
| | |
| --- | --- |
| Gender | Female, Male |
| Skin Type | Dry, Normal/Combination, Oily |
| Skin concern | Pigmentation & Dark Spots |
| Senstive skin | Not Sensitive |
| Regime | Night |