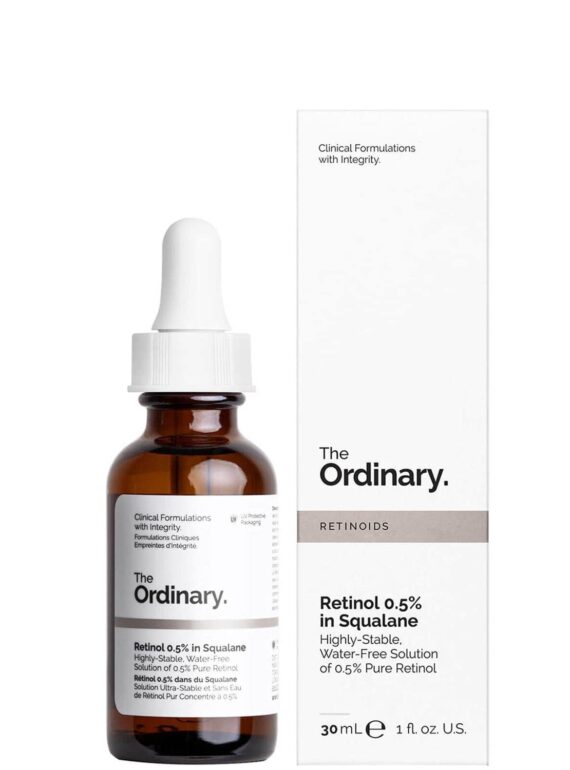 The Ordinary Retinol
The Ordinary Retinol solution is formulated to slow down the ageing effects on the skin and improve its texture. It is available in 3 strengths-0.2%, 0.5% and 1%. This provides a good opportunity for people with sensitive skin to begin their journey of anti-ageing with 0.2% strength.
What is it? Retinol based anti-ageing night serum.
Who can use it? Normal to oily skin for delaying signs of ageing.
Can I use it for sensitive skin? Yes, you can begin with 0.2% The Ordinary retinol once your sensitive skin is calm for some time. Upgrade to the higher version gradually.
Goodies: Retinol, Squalene
Not so good: None
Description
The Ordinary Retinol benefits
Rejuvenates Skin: The small molecules of retinol penetrate through the outer layer of skin called the epidermis and into the dermis, repairing existing skin cells and creating new healthier ones. Retinol neutralizes free radicals, boosting the production of elastin and collagen, which makes the skin supple and spotless.
Boosts Anti-Ageing: Daily usage of The Ordinary retinol solution reduces the fine lines, wrinkles, and uneven skin tone, thus retaining youthfulness.
Prevents skin damage: The antioxidant Squalane helps in protecting the skin from UV damage, and sunspots. It also helps in killing harmful bacteria and fungi, causing fewer breakouts.
Repairs skin: Along with Squalane and retinol, the product also contains Solanum Lycopersicum (Tomato Fruit Extract) which helps balance the pH of the skin. Tomatoes contain antioxidants and are rich in vitamins and minerals. Solanum Lycopersicum helps fight cellular damage and nullifies free radicals, repairs the skin and keeps it wrinkle-free.
How to use it?
The Ordinary Retnol should be used at night after washing your face. Put a few drops on the face and gently massage until it gets absorbed. Wait for 15-30 minutes. If your skin feels dry and stretched, put on a layer of bland moisturiser.
Additional information
| | |
| --- | --- |
| Gender | Female, Male |
| Skin Type | Normal/Combination, Oily |
| Skin concern | Acne & Blemishes, Ageing/Wrinkles, Pores/Blackheads/Whiteheads |
| Senstive skin | Mildly Sensitive, Not Sensitive |
| Regime | Night |