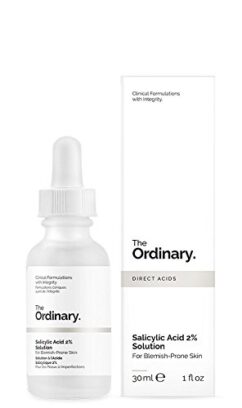 The Ordinary Salicylic Acid 2% Solution
The Ordinary Salicylic Acid 2% Solution is a perfect pick if you are looking for a chemical exfoliator to get rid of dead skin cells, blackheads or open pores along with oil control.
What is it? Salicylic acid 2% serum
Who can use it? Oily skin prone to open pores and comedones. For normal to dry skin, use as a spot treatment only.
Sensitive: Can be tried as a spot treatment, if your skin is calm. Avoid on irritated skin.
Description
The Ordinary Salicylic Acid 2% Solution Benefits
Effective exfoliator for the skin:
Salicylic acid is a beta-hydroxy acid (BHA) that is a key ingredient when it comes to the treatment of oily skin. 
It works wonders as an exfoliator both at the surface till deep down to the pores, thereby preventing acne and blackheads. 
Its anti-inflammatory action is also effective against already existing acne.
Acts as a soothing agent with antimicrobial properties: Hamamelis Virginiana leaf water is a dilute distillate that helps in avoiding skin irritation and discomfort providing a relaxing effect to the skin.
Side effects:
Salicylic acid can make your skin dry over a period of time. Skip this serum if your skin already feels dry. Apply The Ordinary Salicylic Acid 2% Solution can trigger a rash and visible exfoliation. It can increase your skin's sensitivity to sunlight. Make sure you wear sunscreen on top of salicylic acid.
How to use it?
Salicylic acid does not react with the sun, however, The ordinary website recommends using this product at night. In oily and non-sensitive skin, you can apply it on full-face except near your eyes. If your skin is slightly dry or sensitive, then go for spot application on pimples or blackheads. Avoid using salicylic acid-based face wash because both may cause over-dryness.
Additional information
| | |
| --- | --- |
| Gender | Female, Male |
| Skin Type | Normal/Combination, Oily |
| Skin concern | Acne & Blemishes, Pores/Blackheads/Whiteheads |
| Senstive skin | Mildly Sensitive, Not Sensitive |
| Regime | Morning, Night |