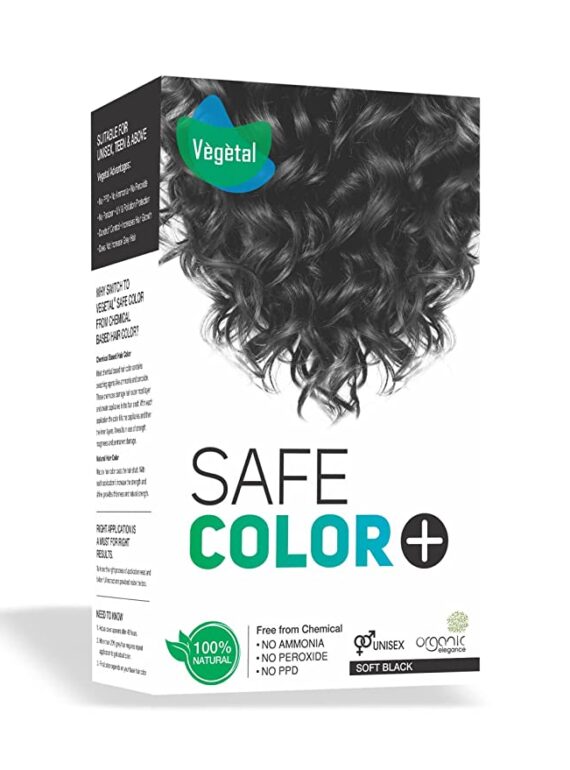 Vegetal Bio Colour Dark Brown
Vegetal Bio Colour Dark Brown  is made up of 100% natural herbs like Henna, Indigo, Shikakai, Brahmi, and many more. It does not contain harmful chemicals like PPD, Ammonia, Peroxide and parabens. Vegetal hair color helps in coloring your graying of hair without damaging them. However, the process of hair color is tedious and results are achieved only after multiple applications.
What is it? Indigo based natural hair color
Who can use it? Any hair type who wnat to color hair without chemicals especially recommended for those who have haor dye allergy
Avialable 3 shades: Soft black, Dark brown, Burgundy
Description
Vegetal Hair Colour benefits
Vegetal Dark Brown Colour has the following benefits:
COLOUR HAIR DARK BROWN: Vegetal hair colour has henna mixed with Indigo along with herbs that enhance penetration of these two natural colours in your hair. Henna and indigo are mixed in the right proportions to give a dark brown colour to your hair.
HAIR GROWTH: With the help of  Bhringraj, Manjistha, Indigo, Henna, Coffee and Amla
HAIR NOURISHING: With the help of Brahmi, Shikakai, Bhringraj and Amla
PREVENTS PREMATURE GREYING HAIR: With the help of Amla, Bhringraj, and khair
NO PPD: Can be used by people who are allergic to hair dye. In fact, it is highly recommended to replace your regular PPD hair dye with Vegetal biocolor because there are many studies that show chemical based hair dye can increase the risk of cancer.
NO CHEMICALS: Vegetal Bio Colour Dark Brown is free from controversial ingredients like PPD, Ammonia, Paraben & Peroxide. It is free from any synthetic and artificial ingredients.
How to use:
However, when you shift from chemical hair to vegetal hair colour, kindly follow these precautions:

Make a paste by mixing the Vegetal Biocolor in water boiled with coffee. Keep paste for overnight & then applying the next day to the entire hair with the comb and cover properly with shower cap & leave it for next 2-3 hours. Rinse your hair thoroughly after 2-3 hours, with normal water without using shampoo. Shampoo your hair next day.
Use Vegetal Dark Brown colour every week for the first month
Every 2 weeks in the second month.
Then once a month.
FINAL VERDICT: Worth buying to cover grey or white hair. However, you should have the patience to follow all the instructions given inside the package of vegetal hair colour for getting the desired results. Vegetal biocolor might not give as much coverage as your regular hair dye even with regular use.
Dermatocare recommendations
Additional information
| | |
| --- | --- |
| Gender | Female, Male |
| Hair Type | Dry, Normal, Oily |
| Hair Concern | Grey Hair |
| Price range | $ |