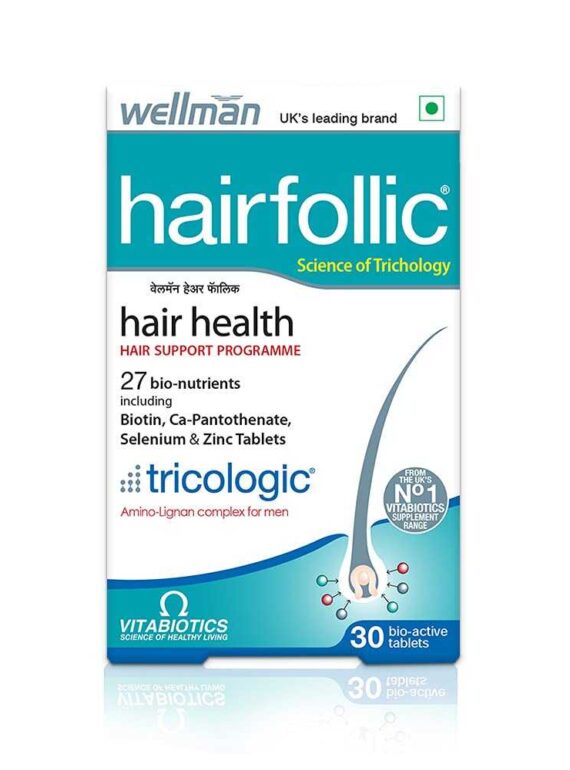 Wellman Hair follic
Wellman Hair Follicle has all the micronutrients needed for hair re-growth, including vitamins, minerals, amino acids, inositol, choline, and grape seed extract. It has a natural DHT inhibitor, lignin, that can prevent the progression of AGA in males.
What is it? Hair regrowth supplement for males
Who can use it? Males above the age of 18 years for hair regrowth
How to take it? Once a day after major meals.
Where to buy? Available online at Amazon.in
Avoid in: sickness, taking medications, upset stomach.
Description
Wellman Hair Follic is primarily a hair re-growth supplement researched by Vitabiotics, a trusted brand of supplements in UK. In India, it is marked by Meyers, which manufactures the Calcimax range of calcium supplements. If your hair fall issue is chronic or severe, then Wellman hair follic is the best choice.
Composition:
It has RDA of Vitamin A, C, D, B1, B2, B3, B5, B6, B12, E. Unlike other multivitamins, it has a higher amount of vitamins D (600IU), Biotin (75mcg) and Vitamin B12 (10mcg) that are known to be deficient in hair loss patients.

It has ten minerals- Magnesium, Iron, iodine, Manganese Chromium, selenium, manganese, copper, iron, silicon, zinc

It has 3 amino acid-L cystine, L Methionine, L-Lysine

Has Inositol, choline

Has hair regrowth-promoting ingredients Proanthracyanodin, Lignan (from flaxseeds), and N-Acetyl cysteine,
It has an Amino lignan complex that helps in Male pattern baldness.
Wellaman Hair folic is vegetarian. It should be taken are heavy meals. Avoid taking it empty stomach. For best result continue for 3-6 months.