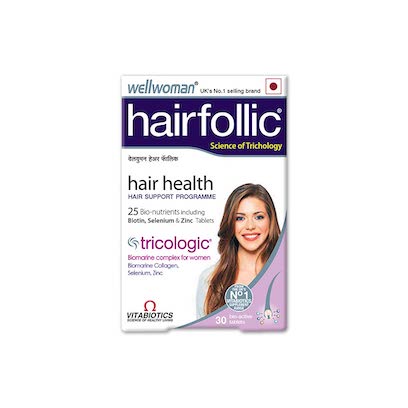 Wellwoman Hairfollic Tablet
Wellwoman hair folic is one of the best hair re-growth supplements. It provides vitamins, minerals, and amino acids needed for hair. In addition, it has a Biomarine complex that consists of collagen derived from a marine source. The only downside is that it is non-vegetarian.
What is it? Health supplement with vitamins, minerals, antioxidants, collagen
Who can use it? Females above the age of 18 years for hair regrowth
How to take it? Once a day after major meals
Avoid in Pregnancy, lactation, sickness, taking medications, and upset stomach.
CHECK PRIZE ON AMAZON.IN
Description
Composition
Vitamins: It has RDA of Vitamin A, C, D, B1, B2, B3, B5, B6, B12, and E. Compared to other vitamins, it has a higher amount of vitamins D (600IU), Biotin (75mcg) and Vitamin B12 (10mcg) that are known to be deficient in hair loss patients.
Minerals: It has 10 minerals- Magnesium, Iron, iodine, Manganese Chromium, selenium, manganese, copper, iron, silicon, zinc
Amino acids: It has 2 amino acid-L cystine, L Methionine
Hair re-growth stimulants: Grape seed extract and collagen.
How long?
Hair re-growth vitamins should be taken for at least 3 months to support the growth of the new follicles.
What else can I do to regrow my hair?
80% of patients with hair fall get better with five tips given below:
However, the above might not work in severe cases. You might need Minoxidil in case of male or female pattern hair loss. Also, PRP sessions are done if your bald scalp is visible.
Additional information
| | |
| --- | --- |
| Gender | Female |
| Hair Concern | Hair fall |