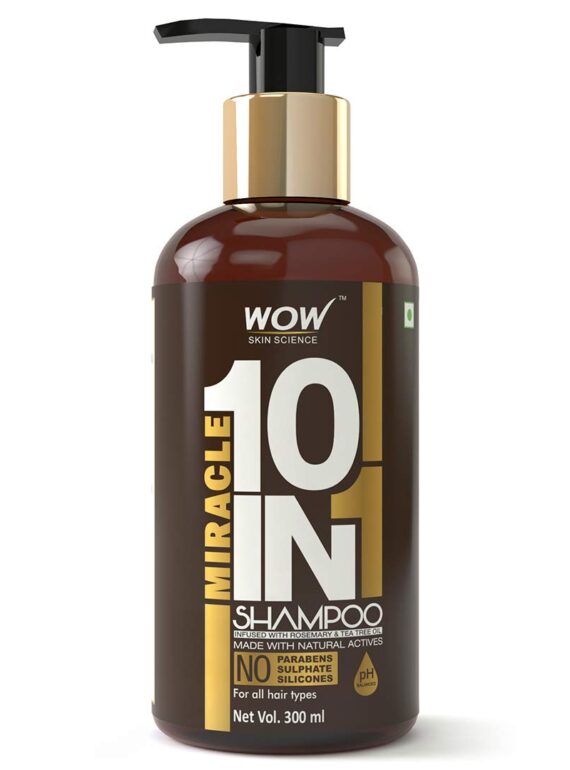 WOW 10 in 1 Shampoo
WOW 10 in 1 shampoo is sulphate free shampoo that can be used for dry and damaged thin hair for nourishing the strands, and prevention of dandruff.
What is it? Gentle shampoo
Who can use? Dry hair
Goodies: Argan oil, Shea Butter, Soya protein, rosemary, tea tree oil
Description
PROS:
WOW 10 in 1 shampoo might moisturise and nourish your hair with the help of Argan oil, Shea Butter, Soya protein, rosemary.
It might prevent dandruff with help of tea tree oil.
It has baby safe surfactants like Sodium lauryl sarcosinate, Decyl glucoside, Cocoamidopropyl betaine, Cocadiethanolamide. These might gently cleanse dry hair without removing already deficient natural moisturising factors.
It is free from Parabens, Phthalates and formaldehyde releasers.
It has de-frizzing agent like Poluquaternium 7 & Polyquaternium 10
CONS:
WOW 10 in 1 Shampoo might not effectively oils in case of greasy and thick hair. Therefore, it not recommended for oily or thick hair. For more details watch this video, how to choose shampoo?
It is sulphate free shampoo, therefore it might not foam easily, you might feel that hair are not squeaky clean or the shampoo is not rinsing off.
Additional information
| | |
| --- | --- |
| Gender | Female, Male |
| Hair Type | Dry |