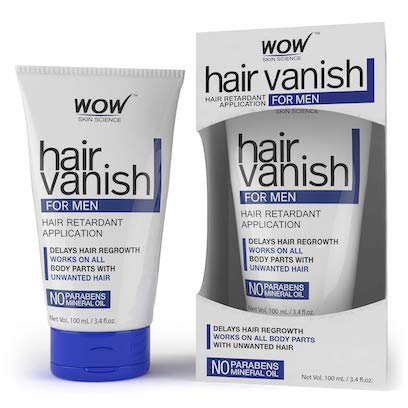 Wow Hair Vanish Cream For Men
Wow hair vanish cream for men has natural hair growth retardants like papain, licorice and Narcicicuss tazetta bulb extract. It can be used as an aftershave replacement to soothe the skin and retard hair growth.
What is it? Hair retardant cream
Who can use it? Anyone who wants to retard hair growth after hair removal
Description
Will it work?
Wow hair vanish cream might help in retarding the hair growth with the help of:
Licorice: This study done in rats concluded that glycyrrhizic acid in licorice can be used for treating hypertrichosis in humans (1). In another study, the effect of LASER hair removal was enhanced considerably with the use 15% Licorice cream in between the sessions (2).
Papain: This enzyme is obtained from the peel of papaya, and a study demonstrates the depilatory effect of papain on hair follicles (3).
Where can I use this cream?
According to the manufacturer, you can use Wow hair vanish cream for men for retarding the growth of both facial and body hair.
How to use it?
Apply it after shaving the hair from face or body for the first time. Use twice a day for 7 days.
What to expect?
Wow hair vanish cream should be applied after shaving 2 times a day on the desired area of the body for the first time. You might notice that hair takes a longer time to re-appear. Even prescribed medications like Eflornithine can at best retard hair growth but not stop it. Thus, Wow hair vanish cream is a greener alternative to increase the gap between 2 hair removal sessions. It is NOT a substitute for shaving or LASER sessions.
For which skin type?
Not applicable
Is it safe?
Yes, it does not have any toxic ingredients.
Will it irritate sensitive skin?
You should do a patch test before using this cream, especially if your skin is sensitive
Additional information
| | |
| --- | --- |
| Gender | Male |
| Senstive skin | Mildly Sensitive, Not Sensitive |
| Body | Excess hair |