Diet plan for good skin and hair I Dermatologist Recommended
May 11, 2016
2022-12-06 13:13
Diet plan for good skin and hair I Dermatologist Recommended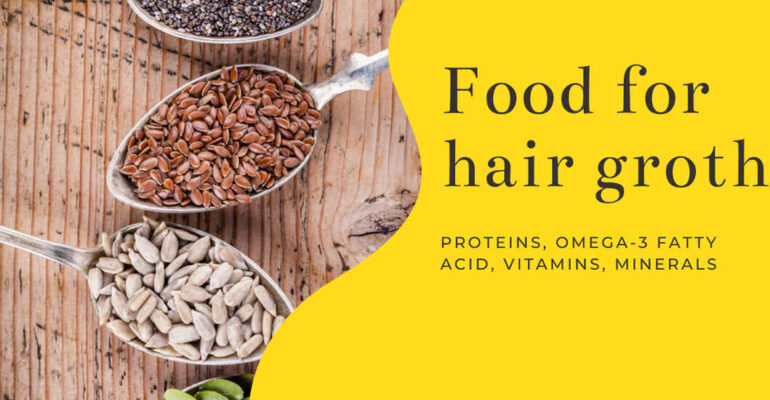 Diet plan for good skin and hair I Dermatologist Recommended
Doctor, is their diet for good skin and hair?
Yes, our clinic recommends a healthy lifestyle and diet for lush hair and radiant skin. I always tell the patient, "If you eat a good diet, your hair and skin issues will not come back."
The lack of adequate protein, vitamins, and minerals in the diet triggers most cases of hair fall. Do you know why? Hair is not essential for the survival of the body. If you don't consume enough calories or protein, the body cuts off the supply to hair follicles. This is done to nourish other vital organs of the body.
Similarly, an unhealthy diet and lifestyle cause acne, dull skin, pigmentation, etc.
LIFESTYLE TIPS FOR GOOD SKIN AND HAIR
Lifestyle plays a significant role in good skin and hair. All you have to do is take a balanced diet, exercise daily and take a good sleep, as discussed in the video:
Super-Food That Promote Good Skin And Hair
If you want good skin and hair, then take the following items daily:
Nuts:  

Eat five soaked almonds, one walnut, five raisins, and one fig daily to promote hair re-growth.

Seeds: 

Mix chia seeds, sunflower seeds and flax seeds in equal amounts. You can eat half spoon alone or add it to oats, salads, smoothies, curd or lassi.

Milk: 

Drink at least one glass of milk or take a bowl of curd daily.

Fruits and Vegetables: 

Eat the following four colors daily in the form of vegetables and fruits:
red/purple
yellow/orange
green
white/brown
Watch this video to learn more about the hair re-growth diet:
Dietary Mistakes To Avoid
Unbalanced diet: 

Most youngsters eat junk more than 3-5 times a week, which does not provide essential nutrients.

Eat healthily, but do not take enough calories: 

You must consume more than 1800 calories/ day in females and 2000 calories/day in males. Nutrients will not reach the hair follicle if you fail to reach the calorie requirement.

HealthifyMe app

can be used to calculate the calorie intake of the Indian diet.

Burn more calories than consuming: 

Fitness freaks tend to burn more calories than they consume, though their diet is healthy. It would be best if you increase your protein and calorie intake based on the intensity of the workout.

Skip meals: 

Many patients with hair fall skip meals because they don't feel hungry. This disturbs the delicate hormone balance because our body tends to compensate for the missed meal.

Taking tea/coffee/milk with meals: 

These inhibit the absorption of minerals and vitamins from meals. Please keep a gap of 1 hour between meals and these tea/coffee/milk.
DIET CHART FOR GOOD HAIR AND SKIN
Breakfast
You should include the following items daily in breakfast:
Nuts: 5 almonds, five raisins, one walnut – 60kcal
Mix pumpkin, flax and sunflower seeds. Take one spoonful of the mixture- 40 Kcal.
Choose one of the following high protein breakfasts:
| | | |
| --- | --- | --- |
| 1 katori/pc of | Cals | Proteins |
| Dal Chilla | 125 | 8 |
| Multigrain Oats with milk | 140 | 6 |
| Black chana Salad | 110 | 5 |
| Vegetable Upma | 150 | 8 |
| Poha with peanuts | 130 | 5 |
| Dal Methi Roti | 110 | 4 |
| Salted vegetable Dalia | 227 | 3 |
| Egg Recipe | 68 | 5.5 |
Recommended potions:
Males –  3 servings
Females- 2 servings
Increase serving by one if you workout
Morning snacks
Mixed fruit juice or salad would provide approximately 50-100 cals depending on the choice and number of fruits. Try to include four colors of fruits/vegetables daily:
Red/purple group: Anaar, Purple Angoor, Jamun
Yellow/ Orange group: Orange, papaya
Green: Grapes
White/tan: Apple, Banana, Guava
Lunch
Males:
3 katori dal
3 roti/2 katori rice
1 katori curd
salad
Females:
2 kataori dal
2 roti/1 kaotori rice
1 katori curd
Salad
Evening snacks
One glass(250 ml) of milk/ green tea
Roasted namkeen: Makhana/Peanuts/Moong dal
Dinner
Males:
2 katori dal
1 katori sabji
3 roti/2 katori rice
Females
2 kataori dal
1 katori sabji
2 roti/1 katori rice
Nutritional information on everyday Indian food items
Most people with hair fall who visit me think that they eat enough. But that is not true. To give an idea, have a look at the approximate calories and proteins of common dishes below:
| | | |
| --- | --- | --- |
| 1 Katori/ pc of pulses | Cals | Proteins |
| Sabut Moong | 130 | 9 g |
| Rajma | 120 | 6 |
| Tur Daal | 116 | 7 |
| Safed Channa | 188 | 6 |
| Black Channa | 118 | 5 |
| Rongi | 114 | 7 |
| Roti | 85 | 3 |
| Rice | 120 | 2.5 |
| Salad | 15 | 0.5 |
| Curd | 90 | 4.5 |
| Milk | 168 | 8 |
| Roasted Namkeen | 100-150 | 5-10 |
| Pizza (personal size) | 320 | 10 |
| Maggi | 150 | 2.5 |
| Noodles | 150 | 3 |
Recipes For Good Hair And Skin
I have listed seven protein-rich vegetarian dishes that you can be included in your diet for good skin and hair:
Chickpeas (Safed/Kala chana): One bowl of chickpeas provides approximately 10 g of protein, calcium, zinc, iron and Vitamin C. You can either make curry or mixed vegetable salad with chickpeas, as shown below:
Oats: One serving of oats (30 gm ) with milk provides 12 gm of proteins, fibre, Vitamin B1, minerals and antioxidants. You can add nuts and seeds to oats as shown below:

Soybean: One bowl of soybean provides approximately 8 gm of protein, omega-two fatty acids, anti-oxidants, Vitamin B1, Vitamin K, Molybdenum, copper, etc. However, avoid high intake because it might suppress your thyroid gland or cause diarrhoea. You can try this tangy soya chunk recipe:

Vegetables Stir fry: Vegetables like Broccoli, sweet pepper, spinach, avocadoes, and peas are rich in proteins and provide vitamins, minerals, and antioxidants. This vegetable stir fry comes with the goodness of mushrooms:
Paneer: One serving of Paneer(30 gm) provides 7 gm of proteins, calcium, and phosphorus. Paneer is an integral part of many Indian dishes and starters; try the one you like.
Mung beans (moong sabut dal) sprouts: One bowl of Mung beans provides approximately 10 grams of proteins, fibres, magnesium, iron, zinc, and amino acids. You can either make curry or, even better, try this super healthy salad with multiple health benefits:
Dal Chillas :Try these high protein Chillas; they are easy to make and would give you a good amount of proteins:
READY-TO-EAT HAIR RE-GROWTH FOOD
If you don't have time to cook, or if you feel like munching something, then try following the healthy options given below:
True Elements Daily Dose Trail Mix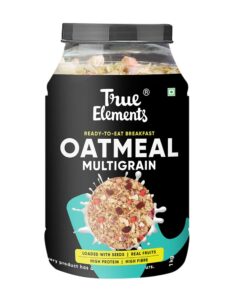 This has mixtures of nuts, berries and seeds- Almonds, Cashew nuts, Watermelon seeds, Dried Cranberries (Cranberries, Sugar, Sunflower Oil), Pumpkin seeds, Black Raisins, Dried Blueberries (Blueberries, Sugar, Sunflower Oil), Flax seeds, Sunflower seeds, Dried Dates, Walnuts, Apricot, Pecan, Pistachio, White Sesame seeds. 1 spoon of the mixture can provide you with omega-3 fatty acids, proteins, vitamins and minerals.
Yoga Bar Protein Bar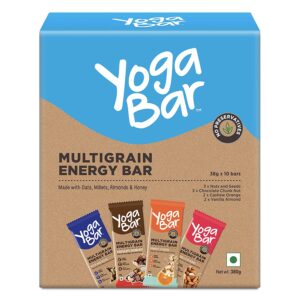 AVAILABLE ON AMAZON.IN
You can satisfy your taste buds and health with this cereal bar. It is an excellent source of protein, fibre and omega-three fatty acid, flavoured with honey. The single bar can provide 8 g of proteins.
Roasted, Healthy, Oil-Free, Protein-Rich Snacks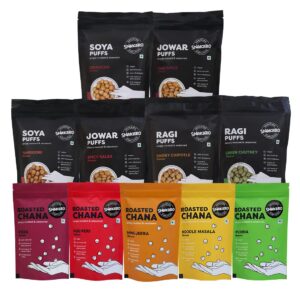 When you feel like munching in the evening or while watching TV, get the help of these roasted oil-free snacks made of Mung dal, Soya beans and Kala channa.
Roasted Makhana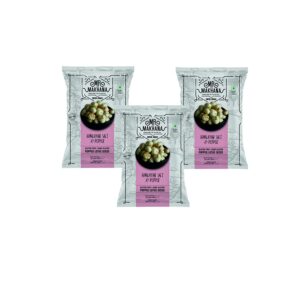 Makhana or fox nuts are a rich source of protein; they are light to eat and digest.
Roasted Quinoa namkeen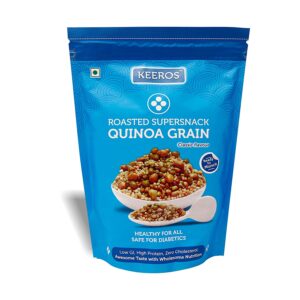 This is yet another tasty and healthy snack containing Quinoa, Pearl Millets, Soyabeans, Green Grams and Dew Beans.
Kapiva Masala Supergrain Mix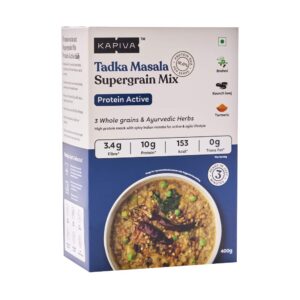 This is a quick breakfast recipe. All you need to do is boil the content in water. You can add carrot, cucumber, coriander and tomatoes to garnish. It provides 6g of protein and 4.4g of fibre in every serve. It has Oats, Ragi, Green Gram, Amaranth, amla, turmeric, ginger, etc.
NutroActive BrownXatta Atta High Protein & Low Carb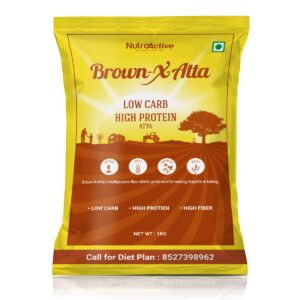 This is a good and easy way to consume more proteins and still lose weight. This atta has Wheat bran, Soya, Lentile, oats and amaranthus. It is rich in both protein and fibre.
RELATED ARTICLES: