6 researched uses of Aloe vera for face I Dermatologist Guide
August 31, 2021
2022-12-07 13:12
6 researched uses of Aloe vera for face I Dermatologist Guide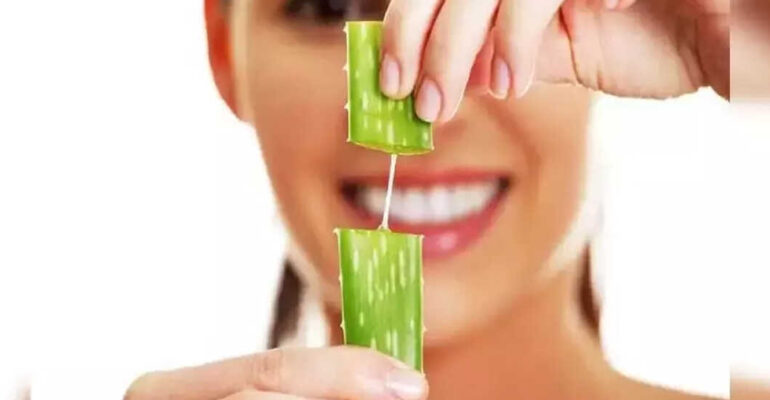 6 researched uses of Aloe vera for face I Dermatologist Guide
"Doctor, can I use aloe vera on my face daily? Does it helps in skin whitening?"
Yes, you can use aloe vera on your face twice daily in the morning and night. It has the following benefits:
skin whitening
reduce pimples
moisturize oily skin without clogging pores
reduces wrinkles
soothes irritated skin
calms sunburn
Make sure you either extract pure aloe vera at home or buy aloe vera gel free from harmful chemicals.
How to use aloe vera on the face daily?
You can massage aloe vera gel on your face in the morning and night. Aloe vera is the best moisturizer for oily skin types. Its water content hydrates your skin without clogging your pores. Mix 30 drops of Argan oil in 100 ml aloe vera for dry skin type to make hydrating cream.
You can also combine Aloe Vera with other natural ingredients to address your crucial skin and hair concerns, as shown in this video:
6 ways to use Aloe Vera for face
1. Skin whitening
According to this study, Aloe vera helps reduce dark patches by aggregating skin pigment called melanin. Aloesin is a compound isolated from  Aloe vera. According to this study, it has been proven to competitively inhibit tyrosinase, the enzyme involved in the formation of skin pigment. You can apply Aloe vera daily on your face or make this skin-lightening mask.
2. Oily skin
Aloe vera can be used as an excellent moisturizer for oily skin. It reduces acne and yet does not clog your pores.
You can apply aloe vera for oily skin in the following three ways:
3. Pimples
Aloe vera gel heals red pimples by reducing inflammation and fighting against bacteria. Combine aloe vera with tea tree oil to make this homemade anti-acne moisturizer.
4. Aging skin:
The following mechanisms can explain the anti-aging benefits of aloe vera:
Aloe vera showed improvement in viscoelastic and hydration properties of the skin in this study.
Another study quoted that aloe vera stimulates the formation of collagen and elastin fibers. This makes skin firmer and less wrinkled.
Aloe vera protects and repairs the damage caused by the sun, dust, pollution, harsh chemicals, etc.
You can enhance aloe vera's anti-aging benefits by adding essential oils. For a full recipe, watch this video:
S
5. Sensitive skin
Aloe vera has a steroid-like calming action on red and irritated skin. However, there are few reports of sensitivity reactions with aloe vera. Remove the yellow liquid that oozes out during the extraction of aloe vera at home. This will minimize the chances of a reaction.
Try this soothing cream for sensitive skin. It has the three most potent anti-inflammatory ingredients- aloe vera, rose water, and calendula.
6. Sunburn:
Aloe Vera reduces pain and redness and promotes the healing of sunburnt skin. You can either use the:
How to use Aloe Vera for hair?
Aloe vera nourishes hair roots and reduces hair fall. It reduces dandruff if you combine it with tea tree oil or lemon. Massage the Aloe Vera scalp for around 1 hour before washing your hair, or make your aloe vera growth mask. You put this mask overnight on hair roots for maximum benefit. It grows hair in 3 months.
How to use Aloe Vera for the body?
Cuts and boils:
Aloe vera aids healing and prevents infection when applied to minor cuts and boils because of its anti-bacterial and antiseptic action. You can use this aloe vera neem basil gel as a natural antiseptic.
Skin cancer: 
Anti-tumor activity of aloe vera is attributed to skin repairing and anti-inflammatory properties.
Minor burns: 
 Studies show that aloe vera causes skin epithelisation and accelerated healing. It is faster than the commonly used antiseptic cream silver sulphadiazine.
Lichen planus: 
Lichen planus is a common skin disorder characterized by an itchy purple-colored rash. It has shown regression with an application of aloe vera.
Psoriasis: 
Both application and intake of aloe vera reduce psoriasis lesions because of their antiproliferative and anti-inflammatory action. One study concluded that aloe vera cream might be more effective than 0.1% steroid cream in reducing the clinical symptoms of psoriasis.
Scabies: 
Aloe vera gel might be as effective as benzyl benzoate in the treatment of scabies.
How to make aloe vera at home?
Aloe vera gel extracted at home should be stored in an airtight container. Keep it refrigerator immediately to avoid oxidation. The method of extracting aloe vera is as follows:
Aloe vera gel gets spoiled on exposure to air and sunlight. Therefore, the whole process of extraction should be performed quickly.
Cut one or two mature leaves from the Aloe vera plant and clean it thoroughly.
Split the aloe leaf into two halves with the knife. Scoop out the clear, translucent inner gel from the split leaf.
Wash the yellow residue(rich in anthraquinones) that oozes out of the transparent aloe vera gel. This will reduce the chances of skin reaction.
Store this freshly extracted aloe vera gel in an air-tight glass container in the refrigerator.
The advantage of homemade aloe vera is that it is 100% pure, and the disadvantage is that you have to store it in the refrigerator.
Will drinking aloe vera help my skin as well?
Yes, of course.  One study has shown improvement in wrinkles with the intake of aloe vera daily for three months.  You should start with two tablespoons of Aloe vera gel mixed with lemonade or any juice and increase to 4 tablespoons maximum.  It is not advisable to consume pure aloe vera.
What are the side effects of using Aloe vera?
The Cosmetic ingredient review expert panel labels aloe vera preparations as safe. However, several case reports of the development of hypersensitivity reactions and contact dermatitis in response to aloe vera preparations have been published.
Oral intake of aloe vera might cause diarrhea, especially at higher doses, and may lower blood glucose levels. Rare kidney damage cases with chronic aloe vera intake have been reported. The above-mentioned side effects are more common if the yellow liquid (rich in anthraquinone) is not removed during extraction.