7 Researched Benefits of papaya for skin I Dermatologist Guide
August 31, 2021
2022-12-12 3:05
7 Researched Benefits of papaya for skin I Dermatologist Guide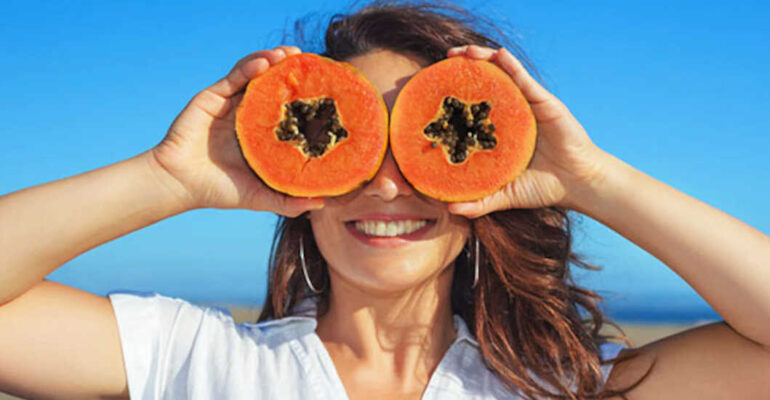 7 Researched Benefits of papaya for skin I Dermatologist Guide
Have you heard of mango, apple or grapes face treatment? Why is papaya so incredibly important for skin care? Let us find out.
Surely, papaya has benefits for skin that are vouched upon by beauty experts and now research. It has an enzyme called papain that is responsible for skin whitening, reducing unwanted hair, exfoliating dead skin, repairing ageing skin etc. This papain enzyme is present in maximum concentration just under the peel of unripe papaya.
Therefore, for the maximum benefit of papaya for your skin use the peel rather than the pulp of this fruit. Papaya is also a rich source of vitamin C, vitamin A, vitamin E, pantothenic acid, folate, magnesium and potassium.
7 benefits of papaya
1. Papaya for skin whitening
Papaya has a potent skin lightening action owing to its exfoliating action and direct skin lightening effect of enzyme papain.
The simplest and quickest way to use papaya for skin lightening is to rub the inside of the papaya peel on your skin. Leave for 5-10 minutes and wash off. You would get instant skin lightening and moisturization.
You can also make skin brightening papaya face pack by mixing following:
3 spoons Mashed papaya
1 spoon besan or chickpea flour
1 spoon of sandalwood powder
5 drops of lemon juice
2. Papaya for reducing unwanted hair
Studies show that papain enzyme from the peel of papaya can inhibit hair growth (Source). Rub the peel of unripe green papaya on the skin gently for 1 minutes, leave the residue for 15 to 30 minutes and rinse. You can repeat this every day provided you do not get any side effects. Papain can irritate sensitive skin. Discontinue if you get irritation, burning, rash or redness.
Ayurveda mentions that chickpea flour and turmeric ubtan can help in reducing hair. You can make papaya scrub to remove unwanted hair at home by mixing:
2 spoons chickpea flour
¼ spoon turmeric
Mashed papaya
Rub this paste over unwanted hair and rinse off after 10 minutes. You can use this daily provided it does not cause redness, burning or rash.
3. Exfoliating dead skin
Papain enzyme magically restores the even-toned look of your skin by accelerating the shedding of dead skin cells. No wonders many scrubs available in the market has papaya as one of the ingredients, for example:
4. Repairing aged skin
Papaya reverses the skin ageing owing to its skin repairing, exfoliating and hydrating action. Few hypothesis supports it has direct anti-aging action as well. Papain enzyme reduces wrinkles by modulating the collagen and elastic fibres in the dermis.
The recipe is simple and time-tested as shown in this video:
While home remedies are definitely worth trying. But, when it come to anti-ageing, Vitamin C serum and retinoids are a must have.
5. Moisturising dry skin
The pulp of ripe papaya fruit providing hydration and nutrition to the skin owing to its water, carbohydrate, and fat content. Instead of peel, use the pulp of ripe papaya. Mash it and just leave on your skin for 5-10 minutes.
6. Healing cuts and burns
Did you know that papaya has been studied extensively for its wound healing benefits? The papain enzyme helps in healing of the wound, It keeps the bacteria away and prevents the scar from getting bigger.
You can simply put the flesh of papaya fruit on fresh cuts, wounds, and even burns to promote a speedy recovery.
7. Papaya for sensitive skin
You can try all the above recipes for sensitive skin but with slight modifications. However, people with sensitive and dry skin should use the pulp part of the ripe papaya.
Avoid peel or unripe green papaya. It has a higher concentration of latex and papain. Both increase the chances of getting either allergy or irritation. Do patch test before using of papaya.
Well, in the end, it seems you love natural remedies. You can shift to 100% natural skin care products formulated by dermatologists using the regime finder tool.