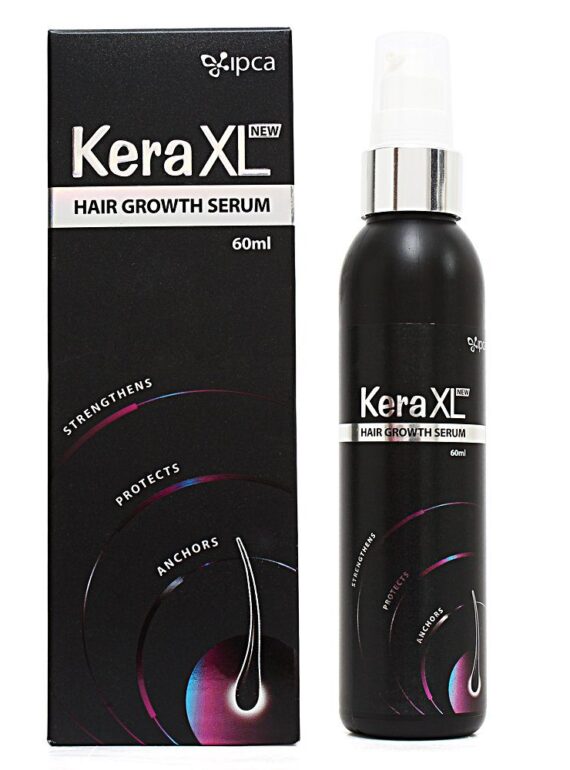 Kera XL Hair Serum review
Are you looking for a serum that works on patterned hair loss? Kera XL hair serum from Ipca labs is your best pick. It has clover flower extracts that inhibit the 5 alpha reductase enzyme, which might help in mild cases of patterned hair loss. 
What is it? Hair Regrowth Serum that focuses on patterned hair loss
Who can use it? Male and female pattern hair loss
What to expect? Hair regrowth in mild cases after 3-6 months of use
Where to buy? It is available at Amazon.in
Description
Kera XL Hair Serum Benefis
Reduction of Androgenetic alopecia: Kera XL serum combines Biochanin A with Acetyle tetrapeptide-3. Studies show this combination might reduce male-patterned hair loss progression for four months. Another study showed this combo as efficacious as 3% minoxidil.
Reduction of Female Pattern hair loss: DHT inhibition also plays a role in cases of patterned hair loss. Therefore, Kera Xl is the preferred choice for female pattern hair loss.
Deep nourishment of the scalp: Biotin, Panthenol, and Xylitol provide nutrition to your scalp and stimulate the hair follicle. 
Unlike other OTC serums, this is a cosmeceutical product by a reputed Pharma company trusted by dermatologists across India. 
Kera XL Serum side effects:
Kera XL Serum has no side effects. However, it is a cosmeceutical product manufactured by Ipca Labs. Dermatologist supervision is best for you while using it. 
Secondly, Male pattern hair loss is irreversible and should be addressed immediately. Most of you might need minoxidil and PRP sessions if your hairline is receding or a bald scalp is showing up.
How to use it?
Apply directly to your scalp, focusing on the area of hair loss. Massage into the scalp using fingertips. Rinse your hands after applying it.
How long can I use it?
Hair regrowth serum usually takes three months to show visible results. You can continue hair regrowth serum until you achieve your average hair density. This might take 3-12 months, depending on the severity of your hair loss.
What else can I do to promote hair regrowth?
80% of patients with hair fall get better with five tips given below:
However, the above might not work in severe cases. You might need Minoxidil in case of male or female pattern hair loss. Also, PRP sessions are done if your bald scalp is visible.
Additional information
| | |
| --- | --- |
| Gender | Female, Male |
| Hair Type | Dry, Normal, Oily |
| Hair Concern | Hair fall |