Anti-Aging Routine in 20s: Dermatologist Recommended
June 13, 2023
2023-09-01 11:39
Anti-Aging Routine in 20s: Dermatologist Recommended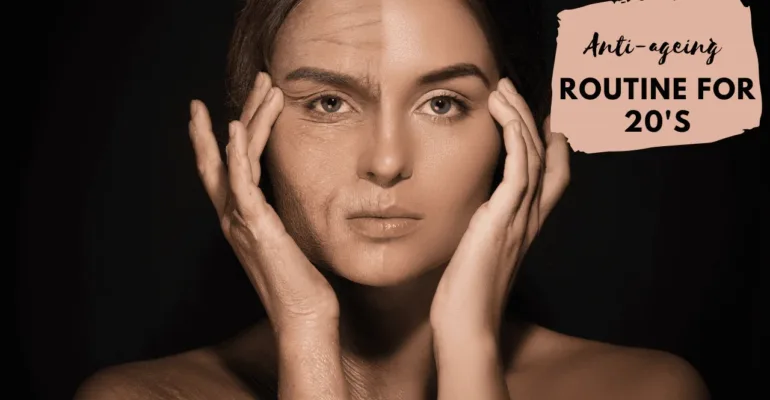 Anti-Aging Routine in 20s: Dermatologist Recommended
Your 20s are a great time to start an anti-ageing skincare routine. While you may not see any signs of ageing yet, this is the decade when your skin starts to slow down its natural production of collagen and elastin, the proteins that give your skin its firmness and elasticity. By activating a skincare routine now, you can help to protect your skin from the signs of ageing and keep it looking its best for years to come.
As you hit your 20s, start Retinol at night and Vitamin C in the morning. Vitamin C promotes skin repair and even skin tone, while Retinol checks the oil secretions. You could add salicylic acid and Niacinamides if you have acne, open pores, and black/whiteheads.
How do you incorporate these agents into your skincare routine? We got you sorted out. Read further for an anti-ageing skincare routine with dermatologist-recommended products. This regime is best suited for oily to normal skin type.
MORNING REGIME
Step 1 Face wash
The objective of washing is to clean the face without making it dry or oily. Based on your skin type, you can choose from the following:
Step 2 Vitamin C Serum
Vitamin C is an antioxidant that can help to protect your skin from the sun's harmful rays and reduce the appearance of fine lines and wrinkles.
Apply it on your face after washing and pat drying your face.
Recommended Brands:
Step 3: Sunscreen
Sunscreen protects your skin from the sun's harmful rays, which can cause premature ageing, wrinkles, and skin cancer. Choose a sunscreen with an SPF of 30 or higher and reapply it every two hours or more often if you are sweating or swimming. You can apply make-up on top of sunscreen.
Make sure to pick a lightweight sunscreen that does not occlude your pores.
Recommended Brands:
NIGHT REGIME
Most of you might be scared to start Retinol in your 20s. However, you might have already used more potent retinoids like adapalene and tretinoin for your acne.
Regularly applying Retinol would check your oil secretion, reduce open pores and prevent acne. It also improves the appearance of fine lines and wrinkles, as well as hyperpigmentation and acne.
Remove make-up with micellar water and wash your face. Put one of the following retinol-based anti-ageing products:
Recommended Brands:
WEEKLY REGIME
Exfoliating helps to remove dead skin cells and reveal fresh, new skin underneath. This can help to improve your skin's texture and radiance and can also help to reduce the appearance of fine lines and wrinkles. You can exfoliate your skin with a gentle scrub or chemical exfoliant, such as glycolic or salicylic acid.
One or twice a week, scrub your face and put a sheet mask or face pack with
It is important to remember that there is no one-size-fits-all anti-aging skincare routine. What works for one person may not work for another. The best way to find the right routine for you is to experiment and see what works best for your skin.