Why do adults suffer from acne?
November 12, 2021
2021-11-12 4:50
Why do adults suffer from acne?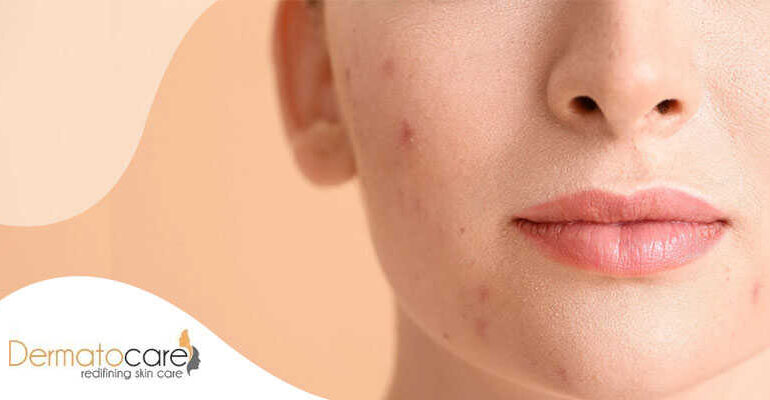 Why do adults suffer from acne?
Acne is a common inflammatory skin disorder that arises throughout adolescence. Acne, however, affects adults as well. Acne is indeed the most popular skin disease in the world. And the percentage of persons suffering from adult acne has increased during the last two decades, particularly among women. According to one research, 85% of females & 15% of males experience adult acne.
Mild cases of adult acne present with whiteheads, blackheads, or papules, tiny pustules in the jaw line area or chin. Severe adult acne is characterized by many papaule, pustules & cystic lesions primarily in lower half of face and neck.
Rosacea or sensitive skin might have similar presentation, but in rosacea skin tends to get red in bright sun, harsh skincare products leads to breakouts and red papules/pustules are present primarily on cheeks especially around nose. Here is everything that you need to understand about adult acne, and also home remedies for acne & treatment options.
The beginnings of adult acne
Inflammation and blocked pores are the root causes of nearly all adult acne. Even though the illness might run in families, there is generally one or even more triggers that cause the acne to appear.
Hormones
Because of the changes they generate in the whole body as well as in the environment of the skin, fluctuating or excessive hormones cause adult acne. This can result in a pH imbalance, over keratinisation plugging the pores, variations in circulation, or perhaps an oversupply of oil production (sebum). Hormonal fluctuations can occur due to
Irregular menstruation
Pregnancy
Postpartum period
Breast feeding
PCOD
Insulin resistance
Thyroid issues
Oral contraceptive pills
Hormonal medicines
Contact irritation
Anything which irritates the skin might decrease its defences and trigger a defensive response that results in inflammation and might trigger acne.
Emotional Stress
Emotional stress causes biochemical changes inside the body that can contribute to many of the aforementioned adult acne factors.
When you are terrified, apprehensive, or under strain, your adrenal glands produce more of the anxiety hormone called as cortisol, causing an imbalance in your skin.
Physical stress
Physical stress could also result in hormonal changes, lowered immunity, & inflammation. It might result from:
lack of sleep
illness
extreme weather
dehydration
exposure to environmental irritants
extreme air pollution
Pore clogging
Excess oils along with the use of thick occlusive products or multiple layering of products or daily use of thick make up could clog pores. Acne is frequently the end effect in these situations. Our dermatologist recommended acne skin care routine can come to your rescue in such cases.
Bacteria
Propionibacterium acnes bacteria produces acne, especially if it builds up. However, most people do not acquire bacteria as a result of improper hygiene. Bacteria build beneath the skin & are not always accessible through surface washing. Acne spot treatment might assist you in eradicating this bacterium.
Foods
Multiple studies now prove that eating too much white flour, dairy, sweets, & fast food contributes to adult acne. For more on diet for acne, read our article, Diet for acne free skin.
Medications
Various drugs, such as corticosteroids, anti-epilepsy, anti-depressants etc have been proven to cause adult acne. Contraception is used to cure adult acne, but certain formulations can potentially induce it. Your doctor can advise you on the appropriate formula for your specific requirements.
Treating adult acne
Adult acne can be treated with a variety of methods, such as home remedies for acne, over-the-counter (OTC) medicines, & prescriptions.
Because therapy outcomes differ from individual to individual, some people prefer to test 1 or 2 at a time to see which works best. OTC treatments may work fast for some people, but if they do not produce the results you are looking for, a doctor might help you assess whether a prescription could be a better option.
Home remedies
There are various effective home remedies for acne, including
aloe vera
tea tree oil
green tea extract
apple cider vinegar
neem
multani mitti
lemon
honey
Here are few dermatologist recommended home remedies for acne that you should try:
Medical treatment
To cure adult acne, several over-the-counter & prescription-strength medicines have been licensed. Medicines like isotretinoin, antibiotics and hormonal therapy prescribed by a doctor are to be eaten. While others like adaplene, tretinoin, benzoyl peroxide, sulfur, or salicylic acid are to  be applied straight to your skin.
You may obtain your acne spot treatment by booking a consultation with a dermatologist, Dr Surbhi, MD Skin through our Dermatocare website.
Here is the comprehensive list of anti-acne therapies therapies:
retinol, also known as Retin-A in its prescription form
salicylic acid
benzoyl peroxide
sulfur
blue light therapy
spironolactone
antibiotics
oral birth control pills
Acne in the 20s, 30s, & 40s
Hormonal shifts might last till 25years of age as your body prepares for maturity. However, if you notice fluctutation in your cycls, increase weight gain, hirsutism, female pattern hair loss along with acne beyond 25 years of age, then you should consult a dermatologist to rule out polycystic ovarian syndrome.
Females in their 40s & 50s may have significantly distinct hormonal variations associated with menopause & the years preceding it, termed as perimenopause.
Males, too, go through a hormonal change as they age, which is called andropause. Most males who tend breakout beyond 25 years, either have insulin resistance or oily skin type.
Consult a doctor about hormone testing & age-specific advice for adult acne. Although the specific treatments may vary, a balanced diet, exercise, as well as a devoted skincare program may be beneficial.
Conclusion:
While dealing with acne post-adolescent years isn't easy, however, the great news is that you are not alone & there are various treatment choices. Instead of experimenting, consult dermatologist figure out treatment that what works best for you.
Dermatocare skin & hair clinic specializes in treating skin, hair, & nail disorders holistically. Dr Surbhi, MD Skin, the creator of Dermatocare, recognizes that the majority of common skin disorders, such as acne, hair loss, pigmentation, & aging, have their roots in your flawed lifestyle. As a result, a healthy lifestyle is emphasized. She spends a significant amount of time educating our patients about the importance of lifestyle. To book an appointment with Dr Surbhi MD, click here