Sensitive skin or Rosacea: Dermatologist Guide
August 31, 2021
2022-05-17 10:30
Sensitive skin or Rosacea: Dermatologist Guide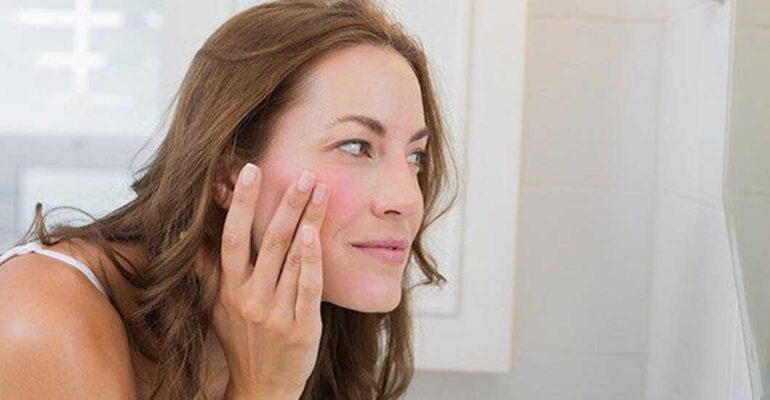 Sensitive skin or Rosacea: Dermatologist Guide
Doctor, what is rosacea or sensitive skin?
If answer to following question is yes, then you certainly have rosacea:
Does your skin gets red in sun or with strong emotional stimuli ?
Does it burns or stings easily on exposure to harsh products?
Have you tried many hypoallergenic products but in vain?
Sensitive skin or rosacea is liable to recurrent flares. You have to be cautious while choosing your skin care products. In this article we will discuss in details about symptoms, cause, skin care and treatment.
What is rosacea?
Rosacea is chronic and recurrent skin disease. It presents in four ways, each forming different type of rosacea:
Erythmo-telangiectic rosacea.
In initial stages, redness of skin occurs on exposure to sun or emotional stimuli and settles after sometime. In later stage, mild redness of cheeks becomes constant. Still later, fine blood vessels called as telangiectasia become visible. This variety of rosacea is called as Erythmo-telangiectic rosacea.
Papulopustular roscea
Few patients of rosacea get bouts of red papules/pustules. This is called as papulo-pustular rosacea.
Ocular rosacea
Eye can be involved in severe rosacea patients. You might get redness, itching, foreign body sensation and watering in eyes.
Rhinophyma:
This is rare. It presents with thickening of skin of nose.
How to calm sensitive skin?
The most important step is to calm sensitive skin is stop all the skin care products, parlour procedures, medicines etc. This is absolutely essential.
Your skin is in the vicious cycle. Use of wrong product can increase sensitivity further. The only way to break this vicious cycle is to stop all skincare products and procedures.
Remember "whenever your skin is burning or irritated it is pleading leave me alone"
Sensitive skin deserves "minimum experimentation" and "maximum care". Each time you get redness, burning or irritation, your skin is crying out loud "Do not irritate me, leave me alone." Therefore, discontinue all the skin care products, cosmetics, and prescribed/not prescribed medicines. Follow the skin care routine given below twice a day.
Skin care routine for rosacea or sensitive skin
The only watch out for sensitive skin is to use the products that soothe your skin, rather than irritating it. If you cleanse, tone and moisturise (CTM) your skin with products given in this article, your skin would return to normal state.
Watch the video given below to know in details about CTM:
STEP 1 Cleanser
A right type of cleanser that does not irritate your sensitive skin is essential. Here are some key points to look for in your cleanser:
Avoid bar soaps because they may increase pH and make your skin more sensitive. Instead use, liquid cleansers that match pH of skin.
Your cleansers should not foam a lot because harsh surfactants like sodium lauryl/ Laureth sulphate can damage skin barrier further.
Restrict cleansing to twice a day.
Avoid overzealous cleansing because it can perturb the barrier of skin allowing irritants to penetrate easily.
After washing, pat dry your face. Avoid rubbing because friction can provoke inflammation.
STEP 2: Toner
Spray a good quality organic rose water on your face and massage it gently until absorbed. The idea is not to use rose water as toner, but to let it seep into your skin to soothe.
BRAND SUGGESTIONS: Most rose water contain harmful chemicals, for brand suggestion read this article, Pure and Organic Rose Water: Dermatocare Research
STEP 3: Moisturiser
A good soothing moisturiser can repair the skin barrier and return the normal texture of skin. While buying a moisturiser, look at the label for words like- "hypoallergenic", "gentle", "mild" or "for sensitive skin". However, this is not a foolproof method because there are no strict guidelines on labelling the products as hypoallergenic.
For oily skin, you can put moisturiser twice a day. While for dry skin, apply moisturizer as sooon as it feels dry, stretched, or itchy. You can put moisturiser as often as 2-3 hourly to keep your skin hydrated. This will help in replenishing the lost natural moisturising factors in dry skin.
Recommended brands for dry skin:
Aveeno Skin Relief Cream
Ideal for dry skin
Bioderma Atoderma cream
Ideal for super-sensitive skin
Cetaphil DAM lotion
Ideal for combination skin
The Face shop Calendula Moisturiser
Home made moisturiser for sensitive skin
Ideal for oily to combination skin type
You can make soothing gel at home in 5 minutes with aloe vera, calendula and rose water. To know the recipe click on this link: Home made Calendula and rose aloe vera gel
STEP 4: Sunscreen
Physical sunscreen is better than chemical suncreen for sensitive skin. Sunscreen at least 30 minutes before stepping outside. If physical sunscreen does not suit your skin, then avoiding stepping out in bright sun and covering your face with thick cloth is recommended.
Recommended brands:
Aveeno Baby Sunscreen
Ideal for dry skin
Neutogena Sheer Zinc Sunscreen
Ideal for dry skin
Cetaphil sunscreens
Ideal for combination to oily skin
FAQs
What causes rosacea?
Rosacea can be due to following reasons:
The family history of allergies
You are likely to get rosacea if tendency of allergies in your family. One or several of your immediate blood relations might have
asthma
allergic rhinitis (present with frequent sneezing)
allergic conjunctivitis (itching in eyes)
atopic dermatitis (present with dry skin, rash and itching).
Experimentation
You can develop sensitive skin during lifetime if you treat your skin as guinea pigs. Lot of people believe in trying the latest, exposing it to harsh chemicals or procedures frequently. Check out, this list of products that are less likely to irritate your sensitive skin.
Severe and prolonged sun exposure
Few might develop sensitive skin after a long beach holiday in the tropical sun.
Steroid misuse
Still others, might develop it due to repeated use of steroid creams. This occurs when you self-medicate the steroid creams like Betnovate, lobate, cosvate, tenovate, etc. They clear your skin instantly, but flare-ups might occur on discontinuation. If such is your situation, a dermatologist can help you with the management of both steroid dependence and sensitive skin.
Idiopathic: However, there might not be any reason for having rosacea. In such cases, your face might get red on sun exposure even in childhood.
Which ingredients are good for sensitive skin?
Following anti-inflammatory ingredients can help in claiming your sensitive skin or rosacea:
Aloe vera
Arctiumlappa (burdock root)
Chamomile
Cucumber
Dexpanthenol (provitamin B5)
Glycyrrhiza glabra( liquorice extract)
Niacinamide
Red algae
Rose water
Silymarin
Sulfacetamide
Sulfur
Zinc
We advise you to do a patch test before you start using any new product, even those recommended by us. You can do patch test by applying a small amount of product on behind your ear every night for at least five nights. Do not use product if redness, burning, itching, or rash occurs.
Which anti-ageing, acne or pigmentation ingredients are best for rosacea?
If your skin is not super-sensitive, then you can use following ingredients:
Anti-ageing: Peptide are better than retinoids
Can I scrub or exfoliate sensitive skin?
Scrubs might cause micro-trauma and induce inflammation in the sensitive skin; so preferably avoid them especially when your skin is irritated. Gentle scrubs meant for daily use can be used once a week or chemical peels can be tried, only under the supervision of a dermatologist. Among peels, milder agents like lactic acid or mandelic acid are preferred. Peels done once in a month by an experienced dermatologist is an excellent way to remove dead skin layer and rejuvenate your sensitive skin.
How does rosacea differ from acne?
It is very important to differentiate rosacea in the papulopustular stage from acne because the anti-acne medication can aggravate rosacea. I see a lot of patients with Rosacea taking anti-acne products, remedies and even medications that can harm their skin. I have tabulated the differences between rosacea and acne below:
| Rosacea | Acne |
| --- | --- |
| No black/whiteheads | Black/whiteheads are common |
| Red or pus filled spots are not painful | Red or pus filled pimples are usually painful. |
| Skin gets red, burn or irritate on exposure to the sun, hot tea or coffee, and harsh products like toners, bleach, sunscreen, | Skin does not get red on exposure to the sun, hot food or skin care products. |
| Anti-acne treatment, products and home remedies make rosacea even worst. | Anti-acne treatment, products and home remedies are helpful. |
Rarely, you might have both rosacea and acne, in this cases, you should consult your dermatologist to craft your skin care regim
What should I avoid in sensitive skin?
The best solution is to stick to the skin care products that already suit you. In quest of finding better, you might end up in worst. Anything that causes irritation, itching burning, bumps or redness should be avoided, for example:
Skin care products like:

alcohol-based toners
bar soaps that produce a lot of lather
nutshell based scrubs
hair removal creams containing chemical depilatories

Ingredients like:

Additives in skin care products like fragrances, lanolin, propylene glycol, Sodium Lauryl/ Laureth sulphate(in face wash), preservatives like quaternium 15, etc.
Active ingredients like Benzoyl Peroxide, Glycolic Acid, Hydroquinone, pure form of Vitamin C, sandalwood, arnica, essential oils, tea tree oil, etc. Take a note that the list includes natural ingredients as well.
Sunscreen agents like Avobenzone, Benzophenone, Butyl methoxy dibenzoyl methane, Isopropyl dibenzoyl methane, Methyl benzylidene camphor, Octyl methoxy cinnamite, Para-aminobenzoic acid (PABA), Phenylbezimidazole sulfonic acid.

Parlour procedures

hot wax/saunas/steam
overzealous scrubbing during facials,
hair treatments that involve heat or harsh chemicals.

Aesthetic procedures

strong chemical peels
Micro-dermabrasion
Ablative LASERS

Lifestyle

hot and spicy food,
hot environment,
moving out in the mid-day sun,
drinking alcohol,
strong emotional triggers
cooking food in hot climate
When should I visit Dermatologist?
People with sensitive skin should always visit their Dermatologist to understand the cause and also for recommendations on an appropriate skin care regime. Re-visit is needed if:
There is persistent redness, burning or irritation of the skin that does not subside even after removing the triggers.
If your skin is developing red bumps or pimples, that fail to resolve with above measures.
If sensitive skin is due to rosacea, regular check ups are required as directed by a physician.
Any severe outbreak of sensitive skin should ideally be reported to a physician for understanding the reason behind it and for the treatment.