Best Redensyl products I Dermatologist recommended
November 10, 2022
2023-09-01 11:47
Best Redensyl products I Dermatologist recommended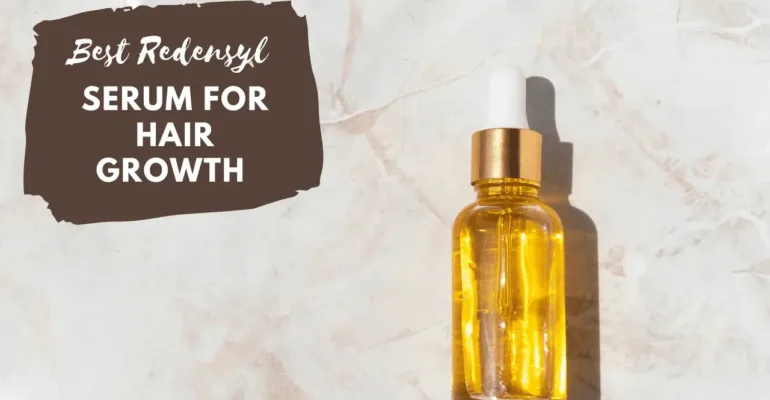 Best Redensyl products I Dermatologist recommended
Looking for Redensyl product in India?

As a dermatologist, I prescribe Redensyl products for my patients in and out. It is a potent hair regrowth ingredient that shows results in 1-3 months based on the severity and type of hair loss. However, it is not better than Minoxidil, as advertised by many companies.
In this article, we have listed the top brands of Redensyl available in India that fits our efficacy and safety criteria. We have chosen hair serum with multiple bio-peptides like Redensyl, Procapil, Anagain, etc., along with other proven hair regrowth ingredients.

Before, you scroll further, watch this video to learn how to choose hair regrowth serum and the correct method of applying it:
What is Redensyl?
According to this journal, Redensyl is a mix of four active ingredients:
Dihydroquercetin-glucoside (DHQG) encourage the division of stem cells in the hair.
Epigallocatechin gallate-glucoside (EGCG2): It has anti-inflammatory properties and stimulates human hair follicle growth.
Glycine: It is essential for the hair shaft structure.
Zinc reinforces hair shaft structure and helps incorporate cystine into keratin
Is Redensyl better than Minoxidil?
Redensyl is not better than Minoxidil, according to the consensus of a dermatologist across India, as listed in this article. As per my experience of treating thousands of patients with hair fall, Minoxidil is the first choice for patterned hair loss and severe cases of hair loss. Redensyl is better for diffuse hair fall.
We could find one study that compares 5% Minoxidil with RCP ( a combination of Redensyl, Capixyl and Procapil). At the end of the 24-week treatment period, hair recovery in the RCP group was 2.54 times higher than in the minoxidil group. However, the result was based on visual examination rather than actual hair count.
Best Redensyl Products in India
10. Serum Expert Hair Growth Serum
Serum Expert hair growth serum is your perfect pick. It is a rich blend of five herbal actives and six bio-actives. It has 3% Redensyl, 4% Anagain, 2.5% Procapil, Baicapil, Follicusan, Biotin, amla, tulsi, methi, ginger and capsicum.
The product is an excellent solution for the oily to normal scalp because it is lightweight and gets absorbed quickly without making the scalp greasy.
9. StBotanica Natural Hair Revival Serum
St Botanic hair revitalizing Serum comes next on our list. It has
3 bipepetides: Redensyl 2.5%, Anagain 4%, Anageline 1%
5 hair regrowth ingredients: Niacinamide (Vitamin B3), Saw Palmetto (Serenoa Serrulata) Fruit Extract, Allium Cepa (Onion) Extract, Biotin, Panthenol (Vitamin B5) extracts.
5 nourishing ingredients: Hydrolyzed Lupine Protein, Hydrolyzed Keratin, Hydrolyzed Corn Protein, Hydrolyzed Wheat Protein, Hydrolyzed Soy Protein etc
The cost is slightly higher, 2000 for 60 ml which would last you a month if applied twice a day.
8. Thrive Co Hair Regrowth Serum
hrive Serum is loaded with hair regrowth ingredients. It is worth trying. The only downside is the cost of the product, Rs 2000 for 50 ml. It has the following hair growth stimulants:
3 bio-peptide: Redensyl, Anagain, Anagelin.
5 hair regrowth ingredients:

hydrolyzed keratine
Rosemary oil
niacinamide
lactic acid
castor oil
camellia oil

7 nourishing hair extracts: Argan oil, sunflower oil, Glycerin, Butylene glycol, Hydrolyzed wheat protein, Sodium hyaluronate and Allantoin.
7. Pro-anagen solution
Proanagen solution is alcohol free hair growth solution that can be used by females prone to mild hair loss. It has following hair re-growth ingredients:
Grape seed extract
Eruca sativa extract
Walnut extracts
Apple extracts
Green tea extracts
Blackseed oil
Eclipta Elba or bringraj
6. Minimalist Hair Growth Actives 18% Serum
Minimalist Serum for hair regrowth is an affordable and effective Redensyl product in India. It has the following:
5 bio-peptides: Capixyl 5% + Redensyl 3% + Procapil 3% + Anagain 3% + Baicapil 4% sourced form reliable companies across the globe.
Saw palmetto extract that helps in reducing Male and female pattern hair loss.
Sanguisorba Officinalis root extract prolongs the anagen or growth phase of your hair.
5. Kera XL Hair Serum
Kera XL Serum has clover flower extracts that inhibit the 5 alpha reductase enzyme, which might help in mild cases of patterned hair loss. It ranks higher on list because is it manufactured by Ipca labs, a trusted pharma company and it is prescribed by dermatologist across India.
4. Redenser Serum
Redenser serum is combination of Bio-peptides, herbs and vitamins. It is good choice for diffuse hair loss cases in females. It has Castor oil, botanical keratin, Xylishine,, panthenol to provide shine to your hair. It has following hair regrowth ingredients:
Aminexil

Argan Stem cells
Retinyl palmitate
Horse chestnut extracts
Biotin and calcium pantothenate
3. Wellgrow Hair serum
Wellgrow hair serum is another dermatologist trusted brand with proven results. It has a combination of the three most potent bio-peptides- Redensyl, Procapil, and Capixyl. This serum hydrate your scalp without making it greasy with the help of water, aloe vera, glycerine, and panthenol.
2. Renocia Hair Revitalizing Solution
Renocia hair revitalizing solution is packed with multiple organic and synthetic ingredients that have studies to back up its efficacy in stimulating hair growth. It has the following elements that have proven efficacy for hair regrowth.
3 Peptides: Oligopeptide-54, Decapeptide-18, and Decapeptide-18 are peptides that have many studies to prove their effect on hair regrowth.
6 active organic ingredients like Gingko Biloba, Soybean, Thuja Orientalis, Saw Palmetto, Polygala Tenuifolia Root Extract and Purslane.
Biotin and Retinyl Palmitate help in hair regrowth.
1. Crescina hair regrowth Therapy
Crescina® HFSC (human follicle stem cell) is a product of Labo, Switzerland, with Swiss patent technology to regrow hair. This Serum does not have Redensyl. However, it is one of the most potent and scientifically proven hair regrowth serums.
Crescina® HFSCt comes in 2 different variants, man and woman. This product tops our list because it has a patented transdermal drug delivery system that delivers the product right next to the hair roots.
What else I can do to promote hair regrowth?
80% of patients with hair fall get better with 5 tips given below:
However, the above might not work in severe cases. You should consult a dermatologist. You might need Minoxidil in case of male or female pattern hair loss. Also, PRP sessions are done if your bald scalp is visible.